A few years back, the home release of the Bakuman TV series saw a few "Limited Edition" volumes that came packed with bonus CDs. As a series all about breaking into the manga industry (and specifically a version of the Jump world!), it was no surprise to see Dragon Ball songs covered. The first three volumes saw covers of "CHA-LA HEAD-CHA-LA", "Mystical Adventure!", and "I'll Give You Romance".
These three cover songs — along with 15 other tracks — have been compiled onto a recent release for the Bakuman franchise entitled TV Animation "Bakuman" Character Cover Song Album UTAMAN.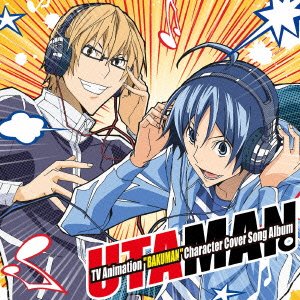 The disc (LACA-15324) was released just about two weeks ago on 24 July 2013 for ¥3,000.
It may have taken a couple years, but that is certainly an easier price to swallow than purchasing all three "Limited Edition" volumes upon their initial release! The Character Cover Song Album is available via CDJapan and Amazon Japan.