As initially teased in the latest English-language trailer for the game, the upcoming Dragon Ball Z: Battle of Z (360/PS3/Vita) fighting game will receive a few special bonuses for those pre-ordering and picking up the game on its release date. As previously revealed, those picking up the game at launch will be treated to a bonus costume for Goku: a specially-customzied Naruto "Sage Mode" outfit, which also includes updates to Goku's movements to mirror Naruto's more closely.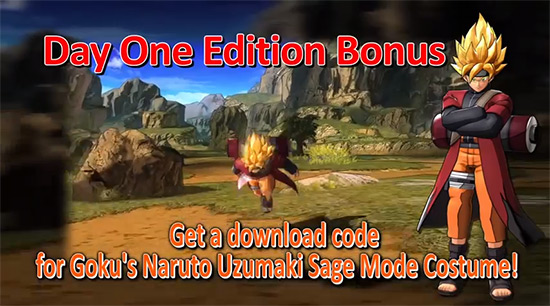 In addition to this, the European branch of Namco-Bandai has revealed that customers pre-ordering the game will receive two additional characters: Super Vegetto and Super Saiyan Bardock.
The Pre-order offer comes in with 2 exclusive in-game DLC Characters, the almighty SUPER VEGITO and the father of our main hero and saviour: SUPER SAIYAN BARDOCK. Those two characters will be available solely via pre-order across Europe and Australasia!
In North America, the two characters will be made available via retailer-specific pre-order deals, with more info to come as the game heads toward release.
DRAGON BALL Z®: BATTLE OF Z TO RECEIVE SPECIAL DAY ONE EDITION AND SPECIAL PRE-ORDER ITEMS IN THE AMERICAS

Exciting DLC Items Deliver Special Cross-Over Experience and Additional Characters for Dragon Ball Z Fans to Master

SAN JOSE, Calif., (September 19, 2013) Leading video game publisher and developer NAMCO BANDAI Games America Inc. today announced its Day One Edition and Pre-Order offers for Dragon Ball Z®: Battle of Z for North America, Latin America, and Brazil on the Xbox 360® games and entertainment system from Microsoft and the PlayStation®3 computer entertainment system. Dragon Ball Z: Battle of Z delivers over-the-top anime action and intensity, presented in new cell-shaded HD graphics. Dragon Ball Z: Battle of Z's expanded team battle and co-op modes will also allow players to create teams of four characters to take on opponents across the globe.

Dragon Ball Z: Battle of Z's Day One Edition will be offered while supplies last at participating retailers and will feature a download code for Goku's Naruto Uzumaki Sage Mode Costume from the popular NARUTO SHIPPUDEN series. Players will be able to execute all of Goku's famous attacks including the Kamehameha and Meteor Smash while dressed in one of the NARUTO universe's most recognizable outfits. Dragon Ball Z and NARUTO fans will want to reserve a copy of Dragon Ball Z: Battle of Z in order to guarantee their Naruto Uzumaki Sage Mode Costume for their video game collection.

Dragon Ball Z: Battle of Z will also be offered with special Pre-Order bonuses. Exclusive characters Super Vegito and Super Saiyan Bardock will be available in different pre-order programs at participating retailers. These characters have proven to be fan favorites with popular attacks and character storylines. Additional details regarding how and where to pre-order Dragon Ball Z: Battle of Z to receive Super Vegito or Super Saiyan Bardock will be announced in the near future.

"Dragon Ball Z: Battle of Z marks a significant push forward for Dragon Ball Z games both in its expanded team and online gameplay mechanics and improved HD graphical presentation," said Chris Gilbert, Senior Vice President of Sales and Marketing, NAMCO BANDAI Games America Inc. "The Dragon Ball Z franchise has been a perennial favorite amongst Japanese videogame, manga, and anime fans and we're excited to offer our loyal Dragon Ball Z fans additional content to go with the innovative and heightened experience they will have with Dragon Ball Z: Battle of Z."


Dragon Ball Z: Battle of Z will be available in early 2014 for the Xbox 360 games and entertainment system from Microsoft, the PlayStation 3 computer entertainment system, and PlayStation®Vita handheld entertainment system (digital download only) in the Americas. For more information on the game, please visit: http://dbzboz.bngames.net, http://dragonball.namcobandaigames.com, https://www.facebook.com/DBZ.videogames or www.facebook.com/NamcoBandai.


Bardock's Super Saiyan transformation was originally developed for Naho Ooishi's three-chapter spin-off manga, Episode of Bardock, which was later adapted into a short video feature for Jump Festa 2012, itself later included as a part of Dragon Ball Z for Kinect. Super Saiyan Bardock was also playable in the Kinect game, but only via a special QR code unlock that was not distributed until after the game's release.
DLC has been made available for this generation's Dragon Ball fighters before, but have generally been distributed as codes within "Limited Edition" versions, pre-orders, retailer exclusive bonuses, etc. and were not later available for download (either paid or free). Most of these have been color palette adjustments, and only a few have actually made their way out at all in North America.
With Battle of Z appearing to go back to the style of character transformations acting as their own individual selection (rather than using "in-game transformations"), fans of Vegetto and Bardock may want to think about picking the game up sooner than later.