A bit after being formally unveiled in the May 2014 issue of V-Jump earlier this month, the official website for Dragon Ball Heroes: Ultimate Mission has itself finally updated with information about the impending sequel, Ultimate Mission 2.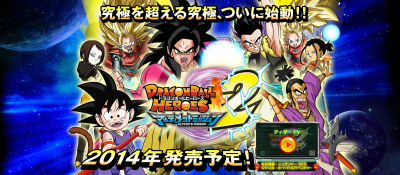 The update includes a teaser promotional video:
The trailer confirms that the missions from all 21 iterations, from the original arcade game's first edition to the latest "Evil Dragon Mission" 3 update, will be included. There will be over 2000 cards, which is more than twice the amount in the first game. It also confirms the ability to carry over card data from the first game to the second game.
The first Ultimate Mission — released back in February 2013 — covered up through the early "Galaxy Mission" updates of the original arcade version of Dragon Ball Heroes. Over an entire half-year, the game swayed in and out of the Famitsu and Media Create top-selling games charts with reliable, if not consistent, sales figures. The game was not released outside of Japan.
Dragon Ball Heroes: Ultimate Mission 2 will be released on the Nintendo 3DS in Japan at some point later in 2014.