In late 2012 and 2013, a series of figures under the "Capsule R" line — "The Warriors Once Again" and the Saiyan arc — revived popular figures from the series available in capsules, with each also containing a piece that helps add up to an eighth and final figure.
Megahouse has announced a new line under the "Legendary Warriors: Super Saiyan Edition" name.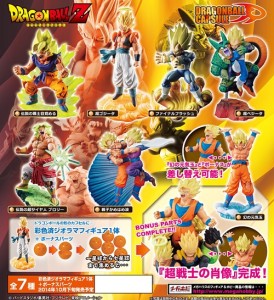 The figures include:
伝説の戦士目覚める (Densetsu no Senshi Mezameru / The Legendary Warrior Awakens)
Super Saiyan Goku lets his anger loose
超ゴジータ (Sūpā Gojīta / Super Gogeta)
The fusion of Goku and Vegeta from Dragon Ball Z Movie 12
ファイナルフラッシュ (Fainaru Furasshu / Final Flash)
Vegeta prepares to fire his Final Flash attack
伝説の超サイヤ人 ブロリー (Densetsu no Sūpā Saiya-jin Burorī / Broli, the Legendary Super Saiyan)
Broli preparing to fire a ki blast
親子かめはめ波 (Oyako Kamehameha / A Father-Son Kamehameha)
Goku and Gohan firing a Kamehameha together
超ベジータ (Sūpā Bejīta / Super Vegeta)
Vegeta has second-form Cell in a neck hold as they fight
幻の元気玉 (Maboroshi no Genki-Dama / The Ethereal Genki-Dama)
Super Saiyan Goku gathers the energy for a Genki-Dama
As with the previous "Capsule R" line, each capsule contains a piece that can be added together to form one final item: "Portrait of Super Warriors".
A seven-pack is available for ¥5,250 MSRP from both CDJapan and Hobby Link Japan. Be sure to note that although there are seven distinct pieces and seven come in each pack for sale, you are not guaranteed to receive each individual figure in your pack. Pre-orders are now open, with an expected release date of 21 October 2014.