The worldwide celebration for Dragon Ball Z: Battle of Gods continued with last week's North American theatrical debut for the English dubbed version of the film from FUNimation. We had a good idea of what to expect thanks to our buddies checking it out during the red carpet debut last month in California, but we had to check it out for ourselves!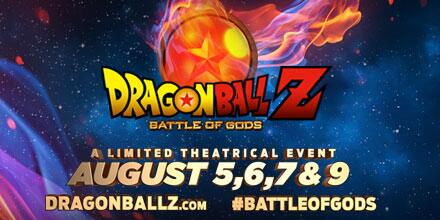 SHOW DESCRIPTION:
Episode #0367! VegettoEX, Hujio, and Herms review the North American theatrical English dub debut for the film "Dragon Ball Z: Battle of Gods". Has FUNimation's experience and new initiatives with "Kai" set the stage for this film? What leftovers from the early days made their way into the final product? Listen in for the full scoop!
REFERENCED SITES:
Enjoy! Discuss this episode on the Kanzenshuu forum, and be sure to connect with us on Twitter, Facebook, Google+, and Tumblr.