The sudden hiatus of Toyotarō's Dragon Ball Heroes: Victory Mission within the pages of V-Jump two months ago seemed odd at the time, but the recent announcement of a three-chapter, introductory, manga-adaptation of the upcoming film, Dragon Ball Z: Revival of "F", seemed to explain the time off!
The short manga begins in this weekend's upcoming April 2015 issue of V-Jump, and while the magazine does not officially hit shelves until 21 February 2015, enterprising fans have already begun leaking photos and details from the issue.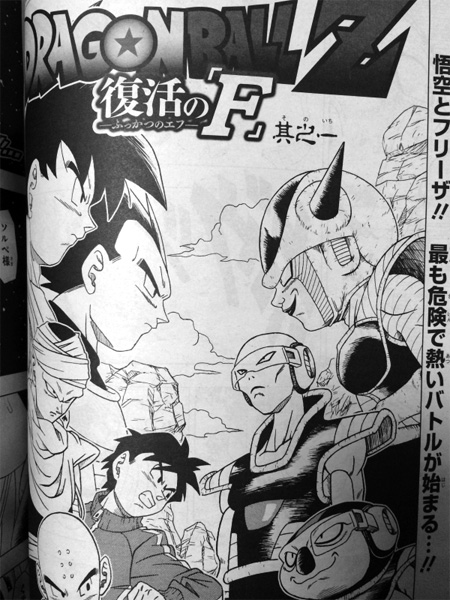 One Japanese fan in particular has showcased three pages along with providing a short summary of the events within the first chapter (其之一). Needless to say, spoilers apply for this chapter, and in turn, the upcoming film!
フリーザが超サイヤ人の悟空とトランクスにやられる回想からスタート

フリーザがやられた途端、フリーザ軍の内部と外部がガタガタになる

これを立て直すため、代わりに軍を率いていた元第3星域の参謀・ソルベが
ザーボンやドドリアに匹敵するほどの戦士・タゴマと共に地球へと降り立ち
ドラゴンボールを所持していたピラフ達を脅し(?)シェンロンを呼びフリーザを復活させる

フリーザ「わたしをこんな目にあわせた2人の超サイヤ人を抹殺しなければ気が収まらない」

タゴマ「お言葉ではありますが、あいつらは無視をされるのが賢明かと・・・」→殺される

ソルベ「孫悟空は魔人ブウを倒せるほど強くなっている」

フリーザ「それは想像以上。しかし、生まれながらの天才であるわたしがトレーニングをして、潜在能力のすべてを引き出せば
サイヤ人でもあっという間に捻り潰せる」

最凶の復讐が始まる。第一部完

---

Starts with flashbacks to Freeza getting beaten by Goku and Trunks

With Freeza down, his army is in shambles. So to reorganize, Sorbet (former staff officer of the third stellar region) takes control of the army for the time being. He heads for Earth together with Tagoma, a warrior on par with the likes of Zarbon and Dodoria.

They coerce the Dragon Balls from Pilaf and co., summon Shenlong, and wish to revive Freeza.

Freeza: "I won't be satisfied until I've killed the two Super Saiyans who did this to me."

Tagoma says something he shouldn't, and gets killed for it.

Sorbet: "Son Goku has become strong enough to defeat Majin Boo."

Freeza: "That's more than I imagined. But I'm a prodigy, so if I bring out all of my dormant power through training, I'll crush even the Saiyans in the blink of an eye."

The evilest revenge begins. End chapter one.
"Toyotarō" is, in all likelihood, a second pen-name used by Dragon Ball AF fan manga author and illustrator "Toyble". The introductory manga will run for three chapters in the April, May, and June 2015 issues of V-Jump in Japan. Stay tuned to Kanzenshuu for further coverage of the chapter when it hits Japanese shelves this weekend.
The story for Revival of "F", opening nationwide in Japan 18 April 2015 in 2D and IMAX 3D, is being crafted by original manga author Akira Toriyama, who stated he is writing it, "…as though it were a continuation of the manga when it was in serialization," and that while it will, "…of course be a continuation of the previous Battle of Gods," he has also, "…deliberately increased the amount of action scenes by a good deal." Tadayoshi Yamamuro, who worked for many years as character designer and animation supervisor on the Dragon Ball franchise, will serve as the film's director and animation supervisor. Norihito Sumitomo will return from Battle of Gods and the Majin Boo arc of Dragon Ball Kai for musical composition duties. Momoiro Clover Z will contribute a song alongside Maximum the Hormone, whose "F" will be used as a "battle song" during the film. Revival of "F" is set to bring back Freeza and will also include two new characters (Sorbet and Tagoma), feature Beerus and Whis again from Battle of Gods, and much more.