Though "Bulma" launched an official blog to promote the upcoming film, Dragon Ball Z: Revival of "F", the entries were hijacked by "Freeza" with 57 days left until the film's debut in Japan:
こんにちは!ブルマよ!
公開まであと57日!
今日は………あれ!!?ちょっと・・・何よ!!パソコンが!!!

地球のみなさま、こんにちは。私はフリーザというものです。
しばしの間このカウントダウンブログを乗っ取らせていただきました。
ご存知の通り、私57日後に復活することになりました。
フリーザ軍の生き残りのソルベとタゴマという部下が私を蘇らせてくれましてね。
新たなフリーザ軍として地球へ行く事にしました。

楽しみですよ、あの憎きサイヤ人たちに復讐をするその時が!
今回1000人の部下を連れて行きますので、地球人も皆殺しにしてやりますよ!
4月18日を、楽しみにしていなさい!フッフッフッフッ・・・・・・

あと57日

終わったみたいね…。
何だったのよアイツ!急にレディのブログを乗っ取るなんて失礼なやつね!
私に手を出したらベジータが黙っちゃいないわよ!
57日後、首を洗って待っているのはそっちのほうよ!

---

Hello! It's me, Bulma!

Just 57 days left until the premier!

Today is… huh?! Wait a minute…what the?! My PC!!!

Greetings people of Earth. My name is Freeza.
I'll be hijacking this countdown blog for a little while.
As you know, my revival is in 57 days.
Some survivors of my army named Sorbet and Tagoma are bringing me back to life.
We'll be heading for Earth with a new army.

I'm looking forward to getting my revenge on those loathsome Saiyans!
This time I'm bringing 1,000 minions with me, to exterminate all the Earthlings!

Look forward to April 18th! Hehehehe…

57 days to go.

Looks like that's over with…
Man, what's his problem? Hijacking a lady's computer like that! What a jerk!
Vegeta won't stand for it if he lays even a finger on me!
Just you wait! 57 days from now, he'll be in for it big time!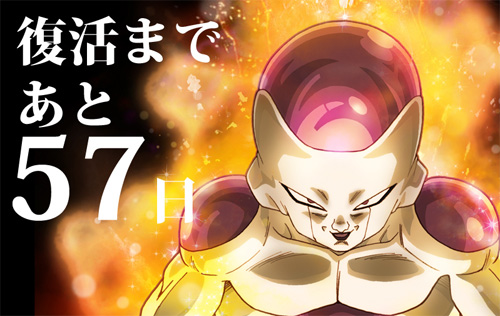 Stay tuned for further updates and translations!