While originally shown off behind an overwhelming array of character sprites and motion graphics in the game's recent debut commercial, online retailers are starting to update with clean cover art for the upcoming Nintendo 3DS game, Dragon Ball Z: Extreme Butōden: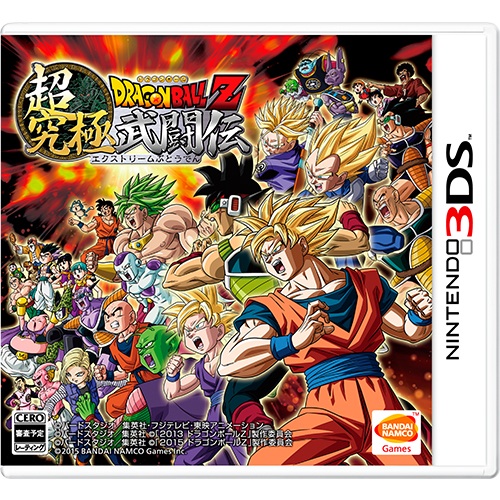 Dragon Ball Z: Extreme Butōden will launch in Japan 11 June 2015. First-press copies of the game will come packed with bonus content, including a downloadable version of the Super Famicom game Dragon Ball Z: Super Butōden 2 (previously included as a part of the J-Legend Retsuden compilation game). Arc System Works will develop the game for Bandai Namco. The developer previously worked on the Bukū… / Supersonic Warriors games on the Nintendo GameBoy Advance and DS.
Dragon Ball Z: Extreme Butōden is currently available for pre-order from CDJapan. The Nintendo 3DS / New Nintendo 3DS are region-locked; a Japanese system is required for the game to play.
Dragon Ball Kai: Ultimate Butoden, the most recent game to receive the "Butōden" branding (and first since the 32-bit generation), was released in February 2011. The game was never localized outside of Japan.