Thanks to a last-minute, surprise release date shift, Dragon Ball Fusions is now available on the Nintendo 3DS in North America! Tune in for some final thoughts on the game as Mike, Jake, and Kirran wrap up the Japanese version and look ahead to the domestic release.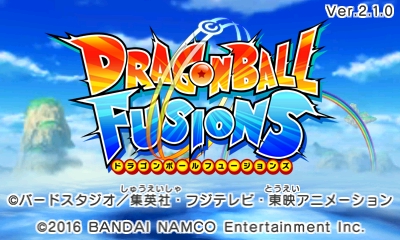 SHOW DESCRIPTION:
Episode #0415! Mike, Jake, and Kirran wrap up the Japanese release of "Dragon Ball Fusions" on the Nintendo 3DS. Does the game offer enough to keep you interested for an extended period of time? How does it shape up against other offerings, both on the handheld and console front? What kinds of expectations should be put in check? Tune in for all this and more!
REFERENCED SITES:
Enjoy! Discuss this episode on the Kanzenshuu forum, and be sure to connect with us on Twitter, Facebook, Instagram, Google+, and Tumblr.
Our podcast feed is available via iTunes and/or Google Play Music. You can also listen to this episode by directly downloading the MP3, or you can listen on YouTube and/or SoundCloud.