The official Dragon Ball website's sixty-fifth entry in "The Nearly Complete Works of Akira Toriyama" — an on-going series highlighting rare and important pieces of the author's work over the years — is another look at the FineMolds "1/12 Fighter Collection" of models circa 1994, this time the WWII Soviet infantry woman Corporal Tanya:
The accompanying instructions give a run-down on how to assemble and paint the figure, plus some background information on this type of soldier and her weapon:


This particular model includes a Shpagin PPSh-41, a Soviet-issue submachine gun used in the U.S.S.R. from 1941 to the 1960s. The description in general notes how many female soldiers filled combat roles in the Red Army (an implicit nod to the fact that this was not a common feature of the other nations' armed forces at the time). The PPSh-41 description notes that the PPD40 and predecessors were complicated mechanically and relatively expensive, so Georgy Shpagin developed the aforementioned model. It was widely used and well-known for its simple use and maintenance.
In the cartoon accompanying the assembly instructions, two IJA soldiers (a corporal and a sergeant major) are talking. The corporal scoffs, "Hmph! Damn enemies! When it comes to women, the Yamato Nadeshiko [editor's note: ideal of demure Japanese femininity] is best. Eh, Sergeant Major, sir?" The sergeant major (with a nosebleed) responds, "W- well, yeah…"
The additional comic and Toriyama quote reads:
SGT. MAJ.: All right~ lemme try and get some information out of her.
CPL.: Yessir…
SGT. MAJ.: H-… Hello. Hello, you are pretty! What's your name?
CPL. TANYA: ?
CPL.: Haha… Sergeant Major, sir, that's English.
SGT. MAJ.: You little… How do you know that?!! I bet you're an enemy spy!!
CPL.: Noooo!!

TORIYAMA: To be honest, I was no match for the style of Russian soldiers, let alone female ones. Neither FineMolds nor I had much in the way of resources, so there are many areas that remain a mystery. Therefore, I believe there could very well be parts that are mistaken, but please be understanding. I am terribly sorry for my lack of study.
The line of models — including this specific Tanya entry — were featured alongside an extensive interview with Akira Toriyama in the Vol. 117 issue of Model Graphix from 1994 (and while we do not currently have a complete translation of this interview, rest assured that it is on our pile for the future!):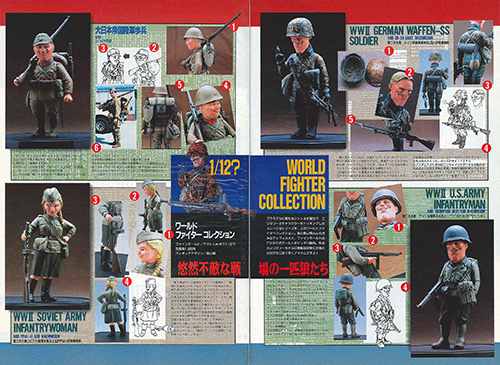 See Work #041 in this series for additional context regarding these figures. Special thanks to Justin for the scans!