The "Dragon Ball North America Tour 2018" is officially underway with its first stop at Comic-Con International, which is being held this weekend in San Diego, California.

The tour location has been setup like the World Martial Arts Tournament, with a check-in table at the center. Numerous products and promotions are on display throughout, as well as large character statues. The left wall also prominently features a special Dragon Ball history timeline designed by VIZ Media editor Marlene First and several character designs for the upcoming movie. Check out the pictures below from various official accounts!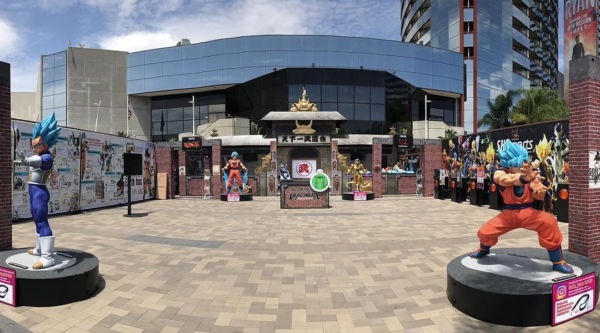 Numerous companies are on-hand at the event hosting various exhibits and booths to show off the latest figures, card games, video games, and much more. Other Dragon Ball-related events and panels with various staff and voice actors are scheduled throughout the weekend. The first panel is scheduled for Thursday (today) at 2:15 PDT, which will feature Sean Schemmel (Goku VA), Christopher Sabat (Vegeta VA), Akio Iyoku (Toei producer), and Norihiro Hayashida (Toei producer) covering the latest on the upcoming Dragon Ball Super movie. It is anticipated that this panel will include the debut of the movie's first official trailer.
Later that night, Funimation will be hosting an official movie launch party at a local sports bar to celebrate the Dragon Ball franchise's milestone 20th movie. The party will have themed drink specials, celebrity guest appearances, photo opportunities, free Dragon Ball Super movie souvenirs, and more.
The tour is being hosted by various Dragon Ball copyright holders, including Toei Animation and Shueisha, as well as Funimation, the franchise's North American license holder. Thus far, six tour stops have been announced:
More information can be found on the tour's official website and a schedule of Funimation events is available on their official blog.