Initially slated to begin releasing on 28 March 2020 and following several delays due to "various circumstances", Banpresto's Ichiban KUJI "Dragon Ball: History of Rivals" figure line is finally set to begin releasing on 23 May 2020. Similar to other figure lines released under the Ichiban KUJI (一番くじ; "Number One Lottery") title, a set number of figures are awarded as random prizes for tickets purchased at local bookstores, hobby shops, or arcades. A customer may purchase any number of lottery tickets, which they randomly draw from a box, with each corresponding to one of the prizes. The "History of Rivals" figure line lottery tickets will retail for ¥1,800 and includes six possible prizes.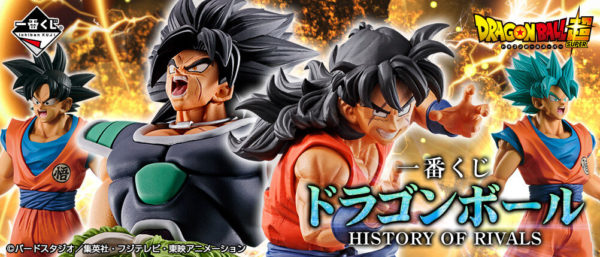 The main figure line will include Yamcha (Prize A) and Broli (Prize B), who were the first and latest of Goku's rivals, as well as Goku himself (Prize C), which features interchangeable normal and Super Saiyan Blue (SSGSS) heads. The fourth prize is a set of four figures dubbed the "Dragon Archives", which features smaller versions of the same characters as the main line. However, the Yamcha-related figures included relive the dramatic Dragon Ball heist scene from Dragon Ball chapter 9. The fifth prize is a set of replica key artwork (genga) sheets of 8 popular scenes from throughout the franchise, along with newly colored sheets of each respective scene. Finally, "Prize F" is a set of 8 clear files featuring famous quotes from the respective characters printed on each side. A quote sticker is also included with each clear file.
The final "Last One" prize, which is the prize awarded to the customer who purchases the last remaining lottery ticket, is an alternate colored version of Yamcha from "Prize A" with a special Pu'er figure. To help promote the upcoming figure line, Bandai released a promotional video featuring Tōru Furuya and Naoko Watanabe, the voices of Yamcha and Pu'er, to showcase the various prizes.
In addition to the promotional video, the voice actors provided comments to the official Dragon Ball news site:
古谷:久しぶりにヤムチャとプーアルの会話を演じることが出来てとても嬉しかったです。
しかも、ヤムチャらしい台詞ばかりで大満足でした。

---

Furuya: After a long time, I was very happy to be able to portray a conversation between Yamcha and Pu'er. Even more, I was very satisfied with the lines that seemed to suit Yamcha well.
渡辺:光栄な一番くじキャラクターが、まさかのプーアルフィーチャー(笑)。久しぶりの「ヤムチャさま~」連呼収録に嬉しさが溢れました!

---

Watanabe: It's an honor that the featured "Number One Lottery" character is the rainy day Pu'er (laughs). After such a long time, I was very pleased with the repeated recording of "Yamcha-sama~".
The official Ichiban KUJI Twitter account is also running a special promotional campaign from May 22 thru May 24 to give fans the opportunity to weigh in and determine who is Yamcha's true rival. Simply retweet the official accounts promo tweet with a comment stating which of the following characters is Yamcha's rival (Tenshinhan, Vegeta, or Saibaimen) with the hashtag #ヤムチャのライバルは誰だ: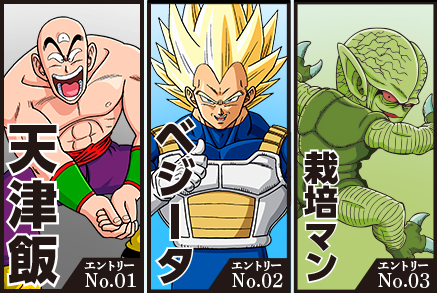 Of the responses received, 320 will be selected and entered into a lottery for random prizes. After the voting has ended, six of the entries will be selected at random and awarded the complete set of prizes.