The "Original Soundtrack" for the forthcoming theatrical film Dragon Ball Super: Super Hero was announced a few weeks ago, and while cover art was revealed, no track listing was provided at that time.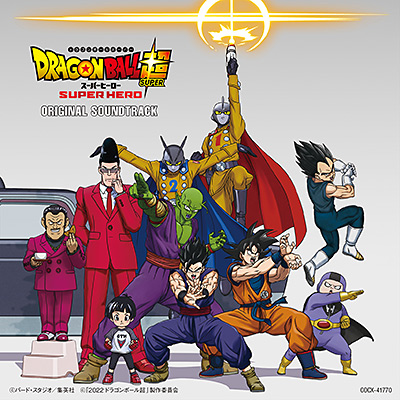 An update to one of the Amazon Japan item pages has revealed the full listing of 23 total tracks:
Prologue
Dr. Hedo
A Hero Appears
Piccolo and Pan
Artificial Human Gamma
Red Ribbon Army
The Garden on Beerus' Planet
Beerus and Cheelye
Shenlong
Warning
Gohan vs. Gamma
Awakening
An Evil Organization?
Orange Light
Magenta's Rampage
The Nightmare Activates
Gamma No. 2's Determination
Strange Beam
Resolve
Battle to the Death
Climax
Toward Tomorrow
Super Hero
The story, script, and character designs for Dragon Ball Super: Super Hero are being crafted by original manga author Akira Toriyama. Shueisha's executive producer Akio Iyoku has noted that the movie's story will take place after the events in Dragon Ball Super: Broly, but before the 28th Tenka'ichi Budōkai, and feature the revival of the notorious Red Ribbon Army. The film's director will be Tetsuro Kodama, who was most recently the CG Sequence Director for the Dragon Ball Super: Broly film, with Hoon Jung-jae taking over the CG Director role after being a CG effects artist in the preceding two films, Battle of Gods and Resurrection 'F'. The film's theatrical score will be composed by Naoki Satō and it has been noted that the Japanese cast recorded their lines in early October 2021. The movie is currently slated for release in Japan on 11 June 2022, following a delay decided upon in conjunction with a Toei network hack.