While we get another batch of our own Kanzenshuu podcast episodes into production, check out the following guest appearances where Mike joins up with a couple other shows for some additional Dragon Ball and Akira Toriyama discussion goodness!
We Gotta Podcast
REVIEW: The Plan to Eradicate the Saiyans (1994)
Back in April, Randy and Doug from We Gotta Podcast invited Mike along for the ride to review the 1994 "Official Visual Guide" or "Original Video Animation" — or whatever you want to call it, really! — The Plan to Eradicate the Saiyans, the video based on the video game itself all put together around multiple other projects… well, it's a long story, so listen in for the full scoop!
(Need more Randy and Doug? Other than their podcast, these knuckleheads tend to hang out for our weekly Saturday night Mario Kart streams.)
(Need more Saiyan Eradication? We reviewed this same original version back on Episode #0235 of our own podcast, followed by the remake Plan to Eradicate the Super Saiyans shortly thereafter on Episode #0238!)
You ever heard of the lost OVA of the Dragon Ball Z series? Well, there's a lot more to it than that, so Randy and Doug brought on Mike, VegettoEX, to teach us a thing or two about an NES game, VHS tapes, a 1990's Bandai CDROM console, and a PS3/Xbox360 game to give us the whole story!
Manga Mavericks
REVIEW: Akira Toriyama's Manga Theater (2021)
Colton and Lum from Manga Mavericks invited Mike alongside artist Darren Vogt to review Viz's Akira Toriyama's Manga Theater, a premium hardcover release from last year compiling the three Akira Toriyama's _____piece Theater volumes from Japan, which themselves collected a wealth of Akira Toriyama's one-shots and short manga series.
(Special thanks to Darren in particular for the amazing artwork for this podcast episode!)
On this episode of Manga Mavericks, Colton & Lum are joined by Mike (VegettoEX), one of the founders of the biggest Dragon Ball fansite on the internet, Kanzenshuu, as well as Darren Vogt, artist extraordinaire and one of the hosts of the Comics on the Spot podcast, to discuss Akira Toriyama's Manga Theater! A collection of comics from Akira Toriyama spanning across multiple decades of his career from before the start of Dr Slump to near the end of Dragon Ball! Toriyama is one of our favorite manga artists of all time, so there was no way we wouldn't cover more of his comics at some point, especially with a new collection of his stories that have never been released before officially in English until recently! We cover this collection of over 20 stories as exhaustively as possible, as Mike provides a lot of much needed context for the publication of a lot of them and pinpoint where Toriyama was in his career at the time of each of them, while Darren provides his perspective as a fellow artist and what makes Toriyama's comics craft so interesting even as far back as his pre-Dr Slump days! Join us as we rediscover our love of Toriyama's works and reevaluate why he's simply one of the best at what he does!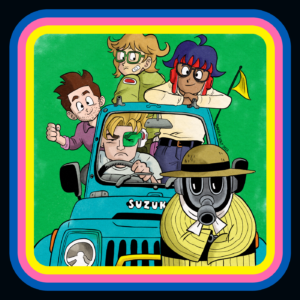 If you already subscribe to Kanzenshuu's podcast through a service like iTunes or Google, or through a dedicated app like (our favorite!) Overcast, these guest appearance episodes are already in our feed and already delivered to your device!
Enjoy, and we'll be back at you again soon.