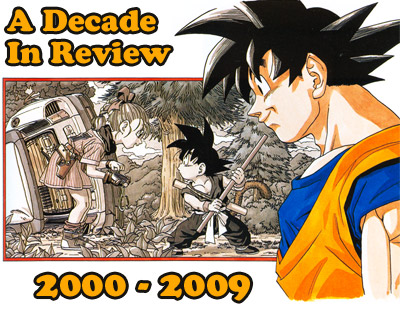 Let us begin right away by acknowledging that the current "decade" does not actually come to a close until the end of December 2010. No "year zero"…? That is OK! With the rest of the Internet also conveniently ignoring this fact, we felt it would be proper to join in on the festivities and reflect on the last ten years. More than any other English-language fansite for the franchise, we are in a unique position — we have been here (and active!) the entire time. We have seen companies come and go, other fansites come and go, the franchise itself dip into faded-reminiscence and rise again with the fury of a new transformation… we have experienced it all, and have been providing news, commentary, and shōnen camaraderie the entire time.
Each year on our podcast, we reflect on the previous year's news stories and make predictions for the next year. It is always fascinating to go back to those predictions another year later; reflection is such a huge part of our fandom, considering that the series proper "ended" well over a decade ago. At the suggestion of a few readers, listeners, and fans, we decided to supplement the single-year reflection with a decade-long reflection as a special "Top 5" list on Episode #0203 of our show.
We created a list of major news stories from 2000 to 2009, spanning the globe and all aspects of fandom. The original core trio of podcast hosts (Mike, Julian, and Meri) independently ordered our top ten stories — the biggest story would receive 10 points, the next story 9 points, and so on down to the tenth story receiving just 1 point. The three lists and point assignments were combined, re-ordered, and cut down to what we apparently decided were the five biggest stories of the last ten years. It is incredibly unscientific, but it sure gets the job done. Amazingly enough, we even had a tie for third place!
So many stories and events simply could not make the list, and that is not meant to diminish their importance in any way. FUNimation finally resolved the home distribution for the first thirteen episodes of Dragon Ball for North America, Atari lost the distribution rights for video games, Viz released a daizenshuu in English, Neko Majin Z saw its run complete with cameos, new guide books from Shueisha flooded store shelves in Japan, Dragon Ball Online entered its beta…
An incomprehensible number of things have happened in the last ten years, and we are grateful to have been a part of the whole run — before, during, and after. When it comes down to it, though, these were the five biggest stories of the last decade, and in many ways have shaped, if not defined, the way our fandom has grown and evolved.
#5: Dragon Ball Evolution
Hey, speaking of "evolved"…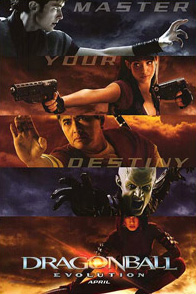 We never thought this one would actually happen.
After years of laughing every time 20th Century Fox noted that it may or may not actually have obtained the rights to make it, in September 2007 we received the first new hints that something was genuinely in the works. Throughout November we started getting tidbits about actor involvement, such as Justin Chatwin and James Marsters. From there it just snowballed. Fake scripts, Ayumi Hamasaki involvement, re-shoots, release date push-backs, not to mention the word "Evolution" itself being tacked-on at some point along the way…
We still sit back and wonder if all of this actually happened. In many ways, it does not feel like it did. So many updates and events took place leading up to the theatrical debut, but it feels like it came and went with a whimper. While it did halfway-decently in Asia, it barely made $4.8 million on its opening weekend in North America. All of the excitement, anticipation, dread, and movie-specific blog sites that centered around it faded into the obscurity and irrelevance with which they entered.


Evolution has made little impact on our fandom now that we take pause to reflect on it. It was cute to analyze it after its release, but few people activity revisit it in any way. It is barely on anyone's radar during discussions. Action figures and a PSP game did little to prop up any longevity. It certainly ended up being "better" than it could have been, but with camp like The Magic Begins and its "remastered" version, there is genuine fun to be had with the previous attempts and adaptations. Evolution just leaves us feeling empty inside.
Despite all this, that theatrical poster shown above is hanging in our basement. Never forget.
TIE – #3: Kanzenban + New Endings
When we re-launched back in January 2003, the revival in Japan was already in full swing. Our first "Feature" covered this in detail, with topics ranging from the new video games to the Dragon Box sets to the music compilations and beyond.
One of the biggest aspects of this revival was the kanzenban, or "Perfect Edition" of the manga. Sporting all-new cover art from author Akira Toriyama himself, the kanzenban also saw upgrades in nearly every other area. The volumes were reduced from 42 to 34, though not in content — each volume contained around 14-15 chapters, as opposed to the tankōbon and its 11-12 chapters per volume. All of the color pages originally published in Weekly Shōnen Jump made their return to the collected pages of the series, and the entire run was printed on a much higher quality stock of paper with vibrant detail.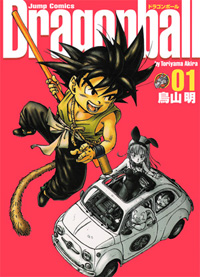 There were a couple set-backs with the kanzenban run, unfortunately. The "Title Page Gallery" was renamed to the "Title Page Collection", with all of the teaser blurbs and Bird Studios logos removed. There were also minor instances of editing, such as the removal of Bulma smoking early on in the series. In contrast to the edits, minor corrections were also made. The "WELL COME" sign above Enma-Daiō's was revised with its proper spelling, though the extra space looked slightly awkward. The full date of "May 12" was given as the arrival of the jinzōningen, rather than "M__ 12". A conversation about battle powers involving Jheece even had a number increased/corrected in a subsequent printing of the kanzenban, correcting an error within its own consistent series of releases.
More than anything else, it was the very end of the kanzenban run that shocked fandom. It was April Fool's Day in 2004 when Greg Werner first let the English-speaking fandom know that a new ending had been written, draw, and adapted into the manga. Little did people know, but it was not a joke — Toriyama truly had adjusted the ending of the manga.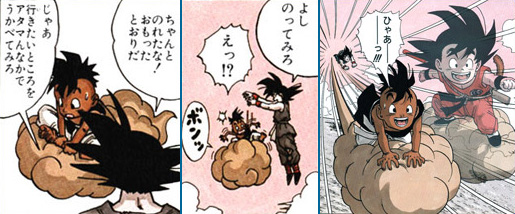 We gave our thoughts on the change back then in 2004, and for the most part feel the same way today. It was and still is an abrupt ending, but a little breathing room was added. The "handing of the torch" down to Oob is much more apparent and gives more hope and excitement for the future world of our heroes. To end on such a quote from Vegeta is a little at-odds with his prior admitting that Goku is indeed "number one", but we will let that one slide in favor of all the other greatness brought about from the kanzenban.
With such a heavy focus on the kanzenban in all of the recent guide books, it is a shame that a re-release of the tankōbon seemed to steal some of its thunder a few years later.
TIE – #3: Jump Super Anime Tour 2008 Special
It had been over ten years since the last significant new batch of animation for the franchise (Dragon Ball GT) had been released. Sure, we had video game openings, some minor TV appearances, and some commercials here and there… but that was it.
In April 2008, we learned that a "Jump Super Anime Tour" would be making ten stops across Japan, showcasing short new features for a few special franchises… including Dragon Ball…!
Details were scarce for a few months, but we at least learned that Toriyama had contributed an original story for the new special. A promotional image appeared online, showcasing what seemed to be two new villain characters and a new Saiyan that looked suspiciously like a younger Vegeta.
Eventually it all spilled out. The new, roughly-half-hour feature would be called Ossu! Kaette Kita Son Gokū to Nakama-tachi!! ("Heya! Son Goku and His Friends Return!!"), and would take place some time after the defeat of Majin Boo but before the end of the actual series. It would feature the original cast, the original TV series score from Shunsuke Kikuchi, a new ending theme, all-new animation and special effects…


The biggest sub-story to the larger story, however, was the special's distribution method. The very next day after the Jump Super Anime Tour ended, it was available… for free… streaming online on Jump's official website (via their special 40th anniversary viewer program). Not only was it streaming online, and not only was it free, but it was available subtitled in various languages in addition to its raw Japanese version. English (as well as Spanish, etc.)-speaking fans were able to watch the new special in its original Japanese format with more-or-less accurately-translated subtitles, completely bypassing FUNimation and other global distributors that otherwise would have to be granted the sub-license to do so.
The special feature received a DVD release only through a limited send-away program via certain Jump magazines, and did not contain any of the subtitle tracks originally viewable online. It did contain, however, the closing theme, "Orange Hero" by jealkb, which was missing from the online stream (as well as a creditless version of this animation sequence). Will the special receive a North American release any time soon? FUNimation is certainly aware of it, and may even be sitting on a completed product for all we know!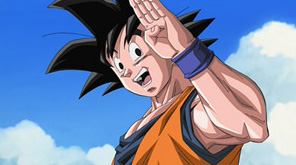 For long-time fans, the new special was everything we could have hoped for. It had the characters, the voices, the music, and the interactions that we not only love, but had been craving for over a decade. It did not take itself too seriously (much to the chagrin of some of the younger American fanbase clamoring for hardcore action), and put huge smiles on our faces. Unfortunately, for the time being, it seems like the special was indeed just that: "special". No new animation or storylines have been hinted at since its premier in 2008. Of course, we have something similar to a "new" series that eventually came our way, but there is still a ways to go in our decade-long reflection…
#2: Dragon Box Sets
It may be difficult for many newer fans in North America to picture their own country without a home release for the series. Even since the days of FUNimation's original dub in 1995, a home release was soon to follow on VHS, and later on DVD. Back in its country of origin, however, the franchise never received a home release, with the exception of the movies on VHS and Laserdisc.
For a beloved franchise like Dragon Ball, it only made sense to pull out all the stops and do it correctly from the get-go. Special pre-order periods were conducted in Japan where fans could plop down the cash (approximately ¥100,000 for the DB and DBZ sets, and around half that for the GT and movies sets), giving them a bragging right to exceed all others: owning the series in a carefully remastered format for the first time ever.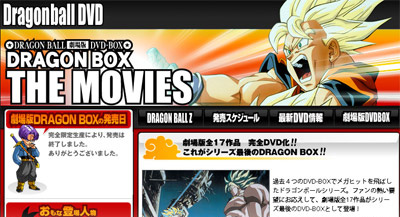 Toei worked in conjunction with Pony Canyon to remaster the entirety of the franchise (with the exception of the movies, apparently done on their own), going back to the genuine film masters held in cold storage. These 16mm prints were rescanned for a new progressive transfer, realigned, and cleaned up without destroying the integrity of the visuals; it was understood that some amount of grain was inherently a part of the image, and that removing it entirely would also result in a large amount of detail loss. The resulting product is essentially the true "definitive" version of the series.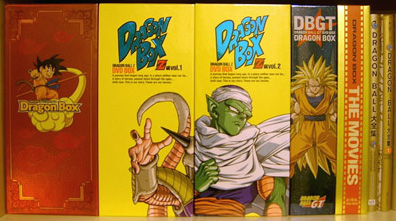 Interestingly, they would begin with the Z portion of the series first (breaking it up into two sets: 1-147, 148-291), somewhat mirroring the American trend of placing Z first in importance and then following up with the rest of the franchise.
Each and every aspect of the new "Dragon Box" sets were handled with the same amount of care. The best available audio masters were used, drastically reducing and mostly eliminating any "hissing" noise made present over constant years of analog transfers. The opening and ending theme mono masters were used, creating quite an impressive audio presentation for material of its age. The complete and correct credits were used for each individual opening and ending sequence, and all recaps and next episode previews were included, something very few foreign releases were able to lay claim to.
Each set contained a special "Dragon Book" that detailed the episodes included on the set, timelines of production, interviews with staff, and even in-universe guides for things such as attacks, special events, and more. The on-disc extras on each set ranged from television commercials to the TV Specials to highly-sought-after footage such as Saiya-jin Zetsumetsu Keikaku. Each set also came with a "Special Present", ranging from a high-quality figure of Goku from Kaiyodo with interchangeable parts, to a Dragon Radar universal remote, to a set of scouters that double as walkie-talkies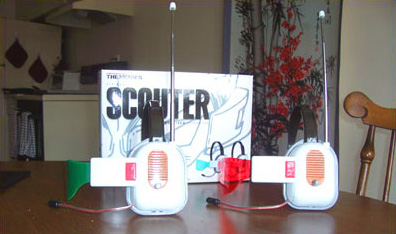 The biggest aspect of the story is certainly the fact that the Japanese market finally received any home release of the series, completing its run from 2003 to 2006. After this run of box sets, all of the individual episodes and movies received single-disc releases which mirrored the content of the individual discs contained within the sets, with the exception of on- and off-disc extras. The pristine remastering, general presentation, and overall care put into the product was and still is completely unrivaled, creating quite a delicious icing to an already sugar-loaded cake of fandom goodness.



While it certainly could be considered its own story, the fact that FUNimation has begun their release of "Dragon Box" sets in North America ties in nicely with the sugary feelings of fandom receiving the sets in general. By breaking the Z series into seven smaller, more-affordable sets that can be sold at retail, the company has guaranteed itself another revenue stream that can at the same time be near-universally praised for its completeness. After such a checkered release history (which, as noted, could easily be its own series of major stories up for discussion on this list), to finally have a domestic product that not just mirrors a carefully-produced Japanese release, but stands on its own as an example of listening to the fans and delivering above and beyond all expectations, is truly something to behold.


The series and its presentation have come a long way from TV broadcasts and multi-generation fansub tapes. We have finally come to a point in time where fans from across the globe can all legally experience the show in its finest form, and it is a battle we will never forget!
#1: Dragon Ball Kai
We abused the word "unprecedented" during the recording of Episode #0203 of our podcast, and particularly when describing Kai. It is a "refreshed" version of a show from twenty years prior, using the original version itself as the animation basis, bringing back the majority of the original cast, a new musical score by a veteran of the franchise from the video game world, upscaled and further "remastered" into high definition…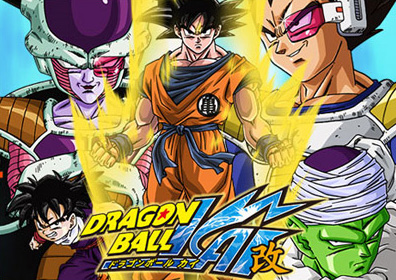 It is truly Dragon Ball for the digital age, and in a way that no-one could have seen coming.
Our inside source "Wasted Wisher" was met with incredible skepticism when he first let us know that the series was being refreshed in some capacity, and specifically in high definition. Over the span of the first quarter of the year, though, we were bombarded with so much information about the new version of the series that it, at times, became difficult to comprehend that this sort of thing was actually happening.
Before it was even given a formal name, we learned that this celebration of the 20th anniversary of the Z TV series would be based on the original animation and footage from twenty years prior, but enhanced and extended for framing in 16:9 and in high definition (initially prompting fears of cropping a la FUNimation's faux-"remastered" season sets for DBZ). Sound effects and other aspects of the video footage would also be updated with new technology, and the original cast to the show would be reuniting to provide the voices.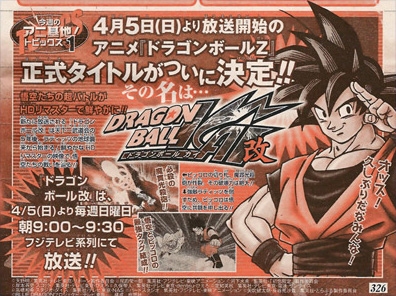 This was all fine and dandy, but did not fully describe what it actually was that we would be receiving. February brought with it many more details, including the formal name for the "refresh": Dragon Ball Kai.
April 5th brought the series into the digital age and back onto television with a faster pace, a new musical score courtesy of Kenji Yamamoto, a high definition presentation, and enough confusing aspects surrounding its production and release that if you did not know better, you would assume it was an American concoction! Details surrounding the 4:3, high definition, box-set-only Blu-ray release alongside the 16:9, standard definition, DVD release left us scratching our heads in confusion.


The pace of the series certainly made a huge jump — Goku dies in episode three of the new version, while this event takes place in episode five of the original DBZ. The early episodes brought examples of censoring, filler material included while canonical manga material was cut, and questionable pacing before editor and producer changes after episodes 10 and 14, respectively. Certain scenes were redrawn, but without any rhyme or reason to them. Many of the redrawn scenes looked rushed and lacked any amount of detail, shoving flat and expressionless drawings alongside the hand-drawn versions from twenty years prior.

Voice actor replacements have been another huge situation. While it was expected that Kōhei Miyauchi's Kame-Sen'nin and Hirotaka Suzuoki's Tenshinhan would have to be formally (perhaps permanently?) replaced due to their unfortunate passing, the Freeza arc brought more replacements than we could shake a stick at. The casting of Aya Hirano as Dende has been described by us as a "stunt casting", allowing for further exploitation with in-character songs to bring in fans from her other works. The entirety of Ginyu-Tokusentai has their voices replaced, even with some of them returning to the series to do other voice reprisals, with others perhaps not being available or unwilling for the job. All major voices, where available, have remained consistent, but this does not seem like a trend that can or will last forever. Which will be the first main character, without the death of a voice actor necessitating its change, to be recast…?
For the first time ever, the underlying Z footage had theme songs that were not performed by Hironobu Kageyama. Clearly indicating that Kai was to be considered its own, new entity, newcomer Takayoshi Tanimoto and the group "Dragon Soul" were brought in for the opening theme, "Dragon Soul", and the closing theme, "Yeah! Break! Care! Break!"
With all of the hype surrounding it, further played up by Fuji TV by proclaiming it part of the new Dream 9 time slot alongside One Piece, it has exceeded many fans expectations in terms of ratings and merchandising. It is apparent that plenty of people out there (specifically in Japan, of course) are watching it — the first episode debuted in the number four slot with an 11.3% share, and is regularly in the top ten for its content type and airing slot. The merchandise has been relentless, with multiple CD singles and soundtracks.




Most interestingly is how the "Kai" moniker is being used across what would otherwise be non-"Kai" material. All new figures and cards are branded as "Kai", including those characters that have not yet appeared in the new "refreshed" version of the series. The latest Nintendo DS game's header was retitled from Dragon Ball Z Story to Dragon Ball Kai shortly after its original announcement.


Above all else, Kai has proven beyond a shadow of a doubt that the franchise has every bit as much brand power as today's current crop of shows, and it can be exploited for the greater good or evil, depending on your point of view, to a whole new audience… as well as the same old audience, too. This story will only continue to grow as the "refreshed" version of the series makes its way to licensed territories, perhaps as early as 2010. It would make sense — this is the digital age, after all, and if sub-licensors want to cash in they need to do so while the iron is hot. Today's fans are becoming accustomed to free viewing online (even ignoring illegal PSP transfers), and without a huge television presence in North America for anime, sub-licensors like FUNimation are finally going to have to approach the series and its distribution in a whole new light.
The Next Decade and Beyond
It has been a long ten years with an incredible amount of news and events to reflect on. We are proud to have been a part of this decade every step of the way, and cannot wait to join you in the next ten years and beyond. We have lots of great things planned for the website, and genuinely hope that more curve balls are thrown our way to keep us on our toes.
Will we finally see an actual new series? Will Dragon Ball Online affect the canonical and expanded universe stories in any significant way? How long will Kai actually last and affect the greater fandom? Just how many video games can they seriously continue to release year-after-year? Only time will tell…