Atari issued a press release earlier this morning confirming their release of "Dragon Ball: Origins", which is just called "Dragon Ball DS" over in Japan. While the game drops in Japan 18 September 2008, we do not have a firm release date from Atari other than "November" (though online retailers are listing it as 03 November 2008).
Innovative Action-Adventure Gameplay of NAMCO BANDAI Games' Newest Chapter in the Dragon Ball Saga for DS Comes to North America in November 2008

NEW YORK, Aug. 19 /PRNewswire-FirstCall/ — The Dragon Ball bounces back with the announcement that Atari is bringing NAMCO BANDAI Games' Dragon Ball: Origins for Nintendo DS(TM) to North America in November 2008. Developed by NAMCO BANDAI Games Inc., Dragon Ball: Origins takes players back to the original Dragon Ball series and around the world for a thrilling action-adventure game with innovative touch pad controls.

The single player game follows Goku and his clever sidekick Bulma as they travel the world overcoming enemies and obstacles to collect the 7 Dragon Balls. In the shoes of Goku, the player must protect Bulma from incoming enemy attacks using special skills, such as fighting with his power pole, or unleashing a kamehameha. Combined with Bulma's brains and her knack for inventing machines and weapons out of discarded spare parts, the intrepid pair make a formidable team able to defeat even the strongest of boss enemies or trickiest of obstacles.

The innovative controls mean the player uses only the touch pad to control Goku. Players must draw lines or shapes to direct the character and control the action by tapping on the screen, for example a double tap on Goku followed by tapping on the Ka-me-ha-me-ha letters unleashes his devastating signature move.

Goku can perfect his skills in training with Master Roshi or by gaining experience through playing mini-games, so when the Dragon radar warns of imminent danger he's always ready to fight. Bulma's spare part creations include a time machine, different vehicles and add-ons to Goku's power pole to help in battle. For extra Dragon Ball fun, hunt down and collect the many virtual figurines hidden in the game world which can then be swapped and traded with friends via wi-fi to get the full collection.

Dragon Ball: Origins pulls no punches in terms of graphics with both screens displaying vibrant 3D visuals, and with the lively, fun humour of Dragon Ball present throughout the game, fans will be able to immerse themselves completely in the spectacular universe.

The immensely popular Dragon Ball Z(R) series is the gold standard of anime-based video games, with more than 30 different games and over 12.7 million units sold since May 2002.
Nothing we have not already heard, but it is great to know that they actually plan on releasing the game over here. Our buddy Marc has some more information and images over on his website.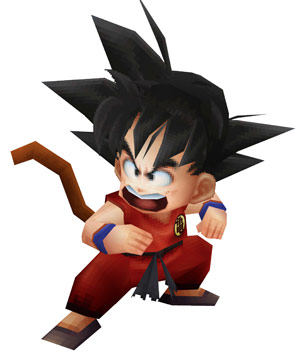 What is ever-so-slightly obnoxious is their need to change the name of every single game they port from Japan. It ranges from "Sparking!" turning into the bizarre and backwards "Budokai Tenkaichi" up through the perfectly-English-titled "Dragon Ball DS" turning into "Dragon Ball: Origins". Again, it is nothing more than slightly obnoxious and amusing to write about; it hardly affects the gameplay. It is just strangely interesting.