Namco-Bandai sent us over a couple gashapon this week in celebration of their upcoming domestic release of Revenge of King Piccolo (originally released in Japan as Tenka'ichi Dai-Bōken):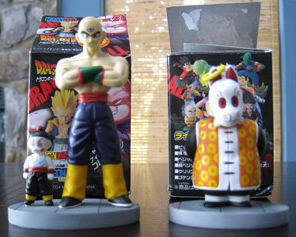 I reached out to our buddy Oldphan over at dragonballtoys.com to find out exactly what line these figures come from, etc. They are a part of the general Dragon Ball Collection series, and specifically the third line there-of. She also noted for us that it looks like the third series is of a little higher quality than the first two, and this is actually one of the few Grandpa Gohan figures ever made!
Revenge of King Piccolo is due out here in North America 20 October 2009. We look forward to reviewing the game solely because we are finally getting something other than a fighting game! Unfortunately for the game, its Famitsu scores (6/6/5/6 = 23/40) do not give it a great lead-in — we will give it a fair shake, though. Look forward to that review on the podcast (and hopefully written up on the website, as well) within the next couple weeks.