Namco-Bandai is holding a "Global Gamers Day" press event in Las Vegas today, and among a few other announcements came a few of interest to Dragon Ball fans. Our buddy Romain from France is there, and shared a bunch of information.
The first hint of things to come arrived via Gamekult on Twitter, who shared the following image of some swag which clearly indicated some Kinect news on its way: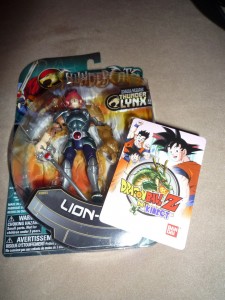 After a bit of Star Trek talk, Namco-Bandai moved on to the Dragon Ball franchise and formally announced Dragon Ball Z For Kinect, which would indeed contain thirty minutes of exclusive animation (which we originally learned about at the end of February with the British Board of Film Classification's rating). Characters can be unlocked via QR cards, some of which were distributed to press at the event. The game will be playable from a first-person perspective, have over 100 moves to perform, and is due out in October.
Other than a historical reel of past Dragon Ball video games leading up to the Kinect game announcement, no other games for the franchise were announced or showcased.
The October date may mean that the "Dragon Ball Z HD" listing from Walmart may actually be related — since originally posting the news, Walmart has removed the PS3 listing for said game while the 360 listing remains active. We will continue to update as more information becomes available.
UPDATE: Romain sent along a couple quick shots of the QR card he received.


Additionally, FUNimation themselves were the ones to issue the press release formally announcing the game this evening:
DRAGON BALL Z® FOR KINECT TO TRANSFORM PLAYERS INTO SUPER SAIYANS THIS OCTOBER

NAMCO BANDAI GAMES AMERICA INC. ANNOUNCES NEWEST EVOLUTION IN THE BELOVED FIGHTING SERIES

SAN JOSE, Calif. (April 11, 2012) – Leading video game publisher and developer NAMCO BANDAI Games America Inc. today announced that Dragon Ball Z® for Kinect™ will be coming to the Xbox 360® video game and entertainment system from Microsoft this October. All of the classic action and intensity of the Dragon Ball Z universe will be felt with an unprecedented sense of immersion when players learn to deliver over 100 moves, including the legendary Kamehameha with their own fists as they charge their way to victory in this ultimate evolution of the classic franchise.

Developed by Spike Chunsoft Co. Ltd, players will be entering the Dragon Ball Z universe in an entirely new way. Featuring iconic characters, famous attacks, and epic battles authentically created from the original manga series, Dragon Ball Z® for Kinect lets players unleash their inner Super Saiyan with no controller in the way! Fans will also be treated to new anime footage debuting in the US and Europe for the first time, along with over 50 playable characters and an entirely new character. Leveraging the Kinect sensor, Dragon Ball Z® for Kinect will also support QR code functionality, allowing fans to hold up special QR codes to unlock characters and power-ups in the game.

"There's going to be no better feeling in the world for fans of the Dragon Ball Z series than standing in front of their screens and unleashing their own fists and raging blasts upon enemies with this game," said Carlson Choi, Vice President of Marketing, NAMCO BANDAI Games America. "The Kinect sensor has truly enabled the development team to finally realize the dreams of millions of fans of both the classic games and the timeless original anime. This game will truly represent the next generation of interactive entertainment in the Dragon Ball Z universe."

Choosing between 'Story Mode' and 'Score Attack' mode, players will enjoy battles and events following the story of Dragon Ball Z in first-person view for the first time. Dramatic battles use anime-style camerawork and require the player to move in the same way as their character and perform the same attack or movement from a particular famous scene, combining CG demo scenes and battle controls to experience giant boss battles like never before! In 'Score Attack' mode, defeat opponents in 1-on-1 battles to get the highest score!

Dragon Ball Z® for Kinect will be available throughout North America and Europe this October. For more information on the game, please visit: http://dragonball.namcobandaigames.com and www.facebook.com/NamcoBandai.

Dragon Ball Z the animated series is available for purchase on the Xbox LIVE Video Store. For more information about the animated series please visit http://www.dragonballz.com.