The March 2013 issue of V-Jump provides some additional details for the upcoming Dragon Ball Z: Battle of Gods theatrical film in terms of its plot, preview screenings, pre-order materials, and video game inclusions.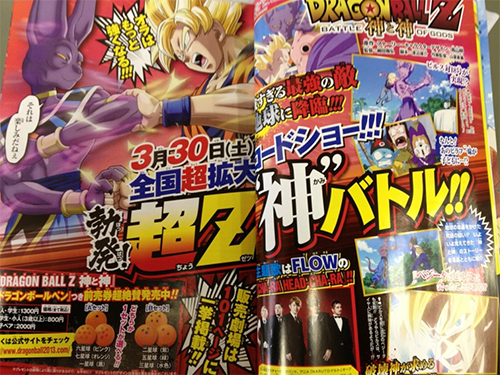 A shot of "Birusu", the God of Destruction, showcases the deity slamming Majin Boo and Super Saiyan Gohan into each other. Another scene showcases #18 going up against the god (who is holding chopsticks), as well. Fans' questioning over the comparative-size of Pilaf and his minions seems to be addressed (which is quite interesting considering how things start in Dragon Ball GT), and Vegeta may possibly be playing the exposition role yet again by potentially knowing of and meeting Birusu in the past.
Taking Boo and Gohan by the hair, this is Birusu's overwhelming power!! Can Goku possibly win against such a foe?

God of Destruction and Artificial Human?! Super battles between Birusu and the warriors of Earth will be made a reality one after another!!

What's this?! That Pilaf gang has been turned into children…?!

Vegeta has met Birusu before?!

Even Vegeta is no match before Birusu!! At any rate, it appears that Birusu has an interest in the Saiyans…?!

Who is the warrior that the God of Destruction seeks?!
By pre-ordering a ticket to the movie, you will get a set of three Dragon Ball pens. Set A includes the Liu Xing Qiu (Six Star Ball, Pink), Qi Xing Qiu (Seven Star Ball, Orange), and Yi Xing Qiu (One Star Ball, Black), while Set B includes the Er Xing Qiu (Two-Star Ball, Purple), Wu Xing Qiu (Five-Star Ball, Green), and San Xing Qiu (Three Star Ball, Light Blue) — no Four Star Ball, it seems. In terms of actual ticket prices, adults and "students" (high school and university) are ¥1,300, junior high students and children (age 3 and up) are ¥800, and parent-child pairs are ¥2,000 for both of them.
Weekly Young Jump had previously announced a special preview screening of the movie scheduled for 12 March 2013, but this issue of V-Jump dives into some of the specifics. The preview screening will be a cross-promotion between 22 different Shueisha magazines. In total, 884 pairs, or 1768 people in all, are invited. The screening will be at 6:30 p.m. on the aforementioned 12 March 2013 (a Tuesday), with doors opening at 6:00 p.m. There will be a live greeting by castmembers at the Tokyo venue, which will be beamed live to the other locations. The five locations are as follows:
Tokyo: Shinjuku Wald 9 (214 pairs, 428 total)
Osaka: Umeda Burg 7 (220 pairs, 440 total)
Nagoya: 109 Cinemas Nagoya (128 pairs, 256 total)
Fukuoka: T-Joy Hakata (161 pairs, 322 total)
Sapporo: Sapporo Cinema Frontier (161 pairs, 322 total)
To apply for the drawing, you have to cut out and paste the ticket on the page to the back of a postcard, write "Dragon Ball Z: Battle of Gods Preview Screening" and the number of the venue you want, then your postal code, address, name, age, occupation (or school year), and phone number — send it to the address printed, with everything postmarked by 20 February 2013 (Wednesday).
A second preview screening has also been scheduled, this one at Differ Ariake (not far from Tokyo Big Sight) on 16 March 2013 at 3:30 p.m. (doors open at 3:00 p.m.). This promotion is occurring across V-Jump, Weekly Jump, and Saikyō Jump — 250 pairs (500 people in all) will be invited. To enter for a chance at this one, you must cut and paste the ticket on the page onto the back of a postcard, write "Dragon Ball Z: Battle of Gods DIFFER Preview Screening", your postal code, address, name, age, occupation / school year, and phone number, and send it to the address in the section by 22 February 2013. At this preview screening event, there will be an on-stage greeting and a special guest!
FLOW's involvement with recording the main theme to the movie — a cover of "CHA-LA HEAD-CHA-LA" (the first opening theme to the Dragon Ball Z TV series) — is noted, though no actual new information is included. Interestingly, the title is written out as "CHA-RA HEAD-CHA-RA", a swap in L/Rs that we have never seen before with this particular song.
As previously revealed, "Birusu" will be making an appearance in the arcade version of Dragon Ball Heroes as a "super boss battle" in the new "Galaxy Mission 6" update. It has also been revealed that there will be a Battle of Gods-specific update in "Galaxy Mission 7" which will be formally unveiled in the April Special Big Issue of V-Jump.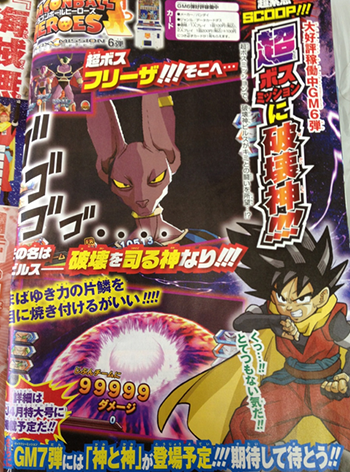 The magazine also contains a two-page spread dealing with upcoming events relating to the movie: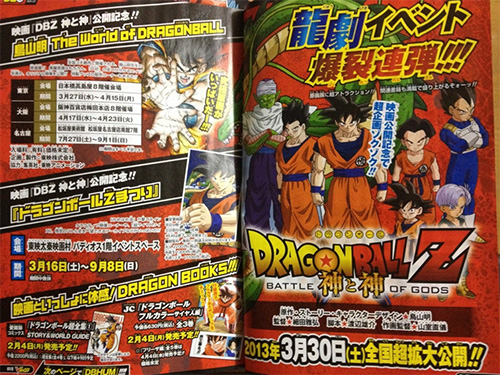 First up is the art exhibition, titled "Akira Toriyama: The World of DRAGONBALL", which will be held across three major cities in Japan (Tokyo, Osaka, and Nagoya) and will display not only Toriyama's manuscripts, but an "Age" timeline of the Dragon Ball world and an original video. There will also be a corner selling special merchandise.
In Tokyo, it will be held in the event space on the eighth floor of the Nihonbashi Takashimaya Department Store from 27 March 2013 (Wednesday) to 15 April 2013 (Monday). In Osaka, it will be held in the event space on the eighth floor of the Hanshin Department Store in Umeda, from 17 April 2013 (Wednesday) to 23 April 2013 (Tuesday). In Nagoya, it will be held in the Matsuzakaya Museum, which is on the seventh floor of the South Wing of the Matsuzakaya Department Store in Nagoya from 27 July 2013 (Saturday) to 01 September 2013 (Sunday) Admission is not free, though the price is not yet determined.
There will also be a "Dragon Ball Z Festival" in commemoration of Battle of Gods at Toei Kyoto Studio Park (Tōei Uzumasa Eigamura). There will be an interactive video corner where you can shoot a Kamehameha and partake in a "Super Saiyan Quiz". There will also be an archive where you can view all the battles Goku's had. This exhibit will be held in the event space on the first floor of the Padios Hall, from 16 March 2013 (Saturday) to 08 September 2013 (Sunday). Admission is free with entry to the theme park, which is ¥2,200 for adults, ¥1,300 for junior- and senior high school students, and ¥1,100 for children 3 and up.
The last "event" is the release of the Full Color Comics and the Chōzenshū, which is obviously not an in-person "event" but a standard product launch.
The March 2013 issue of V-Jump is currently available via CDJapan, Play-Asia, and Amazon Japan. Dragon Ball Z: Battle of Gods — the first new theatrical presentation for the franchise in seventeen years — will formally open in Japanese theaters 30 March 2013.