We have already covered all of the significant pieces from the April 2013 issue of V-Jump that hit Japanese shelves 21 February 2013 — things like "Super Saiyan God", upcoming Dragon Ball Heroes updates, etc. — but there are a few interesting promotional tidbits still hanging out that we have not yet covered.
Starting 12 March 2013 at Lawson only, when you reach 300 Ponta points, you can exchange them for a Dragon Ball-styled "Dragon Bowl"; just print the exchange ticket off the Loppi machine.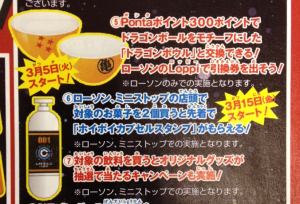 Starting 15 March 2013 at both Lawson and Mini Stop, buy any two applicable snack foods and you can get a "Hoi Poi Capsule Stamp" on a first-come, first-serve basis. You will also be able to buy an applicable beverage and you can do a drawing for original Dragon Ball goods via the standard process of pulling a piece of paper out of the contest box to see if you win anything. Both locations are also set to sell Dragon Ball limited-edition items one after another.
Starting today (01 March 2013), and exclusive to Ponta members, if you enter their campaign, you can do a drawing to win a Dragon Ball-design Ponta card.
At HMV stores nationwide between 23 March 2013 and 05 April 2013, you can get Dragon Ball goods in a prize drawing. With the purchase of any two items, you can try the "limited speed-lottery".
At GEO locations, with the use of Dragon Ball rental DVDs or rental comics totaling ¥300 or more, you will receive a "free clear file". The three designs include:
01 March 2013 onward: Goku, Piccolo, & Vegeta firing ki blasts
15 March 2013 onward: Gohan, Goten, Trunks, Piccolo, Kuririn, Bulma, Kame-Sen'nin, and Goku
29 March 2013 onward: Goku, Piccolo, & Vegeta super-deformed
In addition, if you collect three of the entry tickets included within these clear files, you can enter a drawing to win a complete 42-volume set of the tankōbon (50 winners) or a JIS B2-size 3D poster (300 winners).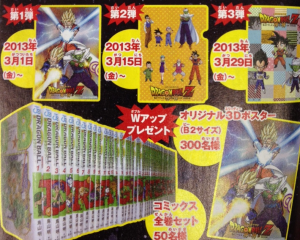 We expect even more of these types of promotions as we head toward the theatrical debut of Battle of Gods come 30 March 2013, so stay tuned!