A special Dragon Ball Heroes card has been promoted as one of three items to be given out to theater-goers at screenings of Dragon Ball Z: Battle of Gods, but its exact identity has heretofore been obscured. Now, however, the official Dragon Ball Heroes website has been updated with information about the card: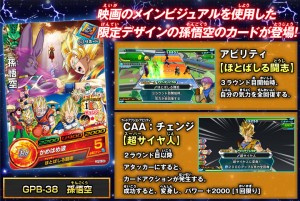 The card is a special Goku card featuring the artwork from the Battle of Gods theatrical poster. Its main properties are "Ability: Surging Fighting Spirit", which allows you to fully recover your ki at the beginning of the third round, and "Card Action Ability: Change — Super Saiyan", which causes a "Card Action" to occur starting in the second round when you attack. If you are successful, you will get +2000 power (limited to one time).
In addition, when you use the card together with your "Hero License", you get "Robo-Toriyama's Robot Parts Support", which allows all members of your team to perform their special attack, regardless of their "Hero Energy", in the fourth round.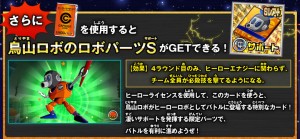 The card will be distributed at theaters along with a QR code for use with Dragon Ball Heroes: Ultimate Mission for the Nintendo 3DS, and a Four-Star "Dragon Ballpen" with Dragon Radar case to hold the bonus pens that came with pre-release movie tickets.
Dragon Ball Z: Battle of Gods (as if anyone needed reminding!) officially opens in Japanese theaters 30 March 2013.