Naho Ooishi may have taken a side-step to produce an "SD" version of Dragon Ball Z: Battle of Gods for this month's issue of Saikyō Jump, but the still-mysterious "Toyotarō" keeps plugging away at the monthly Dragon Ball Heroes: Victory Mission. The on-going promotional mini-manga for the Dragon Ball Heroes arcade game (and recently-released Nintendo 3DS port) returns for an 8-page seventh chapter in the May 2013 issue of V-Jump released today in Japan.
Picking up where things left off last month, "The Direction of Victory" (勝利のゆくえ / Shōri no Yukue) kicks off with Froze's characters all firing their special attacks at once, with Beat's avatar taking everything — including the Dragon Fist — head-on. His clothes are torn up, but he still has 600 HP. He goes Super Saiyan, and reacting to his remaining HP, "revived strong foes" are activated. Despite the risk, Beat is going all-out. Froze, with his Freeza-clan avatar, comes in on the attack, but Super Saiyan 4 Goku blocks him. Both of their Charge Impacts were perfect, so it is a tie. Froze continues on the attack, but finally is stopped in his tracks by Super Saiyan 4 Goku, who hits back with a 10x Kamehameha. Froze, however, has an ace up his sleeve: a "Revival Chance" is activated, which Froze equips with "Galaxy Parts". Froze is able to accomplish this because of his "Hero Robo Skill". Froze creates a Death Ball to fire at Beat, all the while yelling, "IT HURT!" Beat martyrs himself tragically in the manner of Piccolo to save his friends (well, cards). Froze uses "Charge Action Ability: Burst" and it is a KO. Beat has lost.
This latest chapter has been cataloged on our "Official Manga Spin-offs" page of the "Manga Guide".
The issue includes — tied in with both Dragon Ball Heroes as well as Battle of Gods — a B2-sized special poster with artwork by Akira Toriyama, a Birusu card for Dragon Ball Heroes (next month's issue of Saikyō Jump will come with an Uisu card), and a "Book of Gods" insert covering "Galaxy Mission 7" in Dragon Ball Heroes.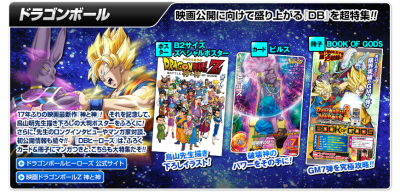 The May 2013 issue of V-Jump is available for purchase at CDJapan and Amazon Japan.