When Namco-Bandai brought the Dragon Ball video game license back in-house from Atari in 2009, the American branch of the company heavily promoted the franchise and their upcoming games over the course of the next year. After that, however, the promotions were significantly scaled back. The European branch of the company, on the other hand, has consistently been in the mix with fans to hype up whatever releases are on the way at the time. In fact, the vast majority of promotional videos for Ultimate Tenkaichi — highlighting game features like character creation — were done in-house by the European branch exclusively.
It is perhaps no surprise that the European branch is the one teasing what is likely a new video game announcement (link available only to European Facebook visitors):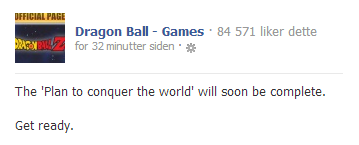 So far, there is no real information on what the big console game for the franchise — if any — will be this year. Dragon Ball Heroes: Ultimate Mission on the Nintendo 3DS remains exclusive to Japan (despite comparatively-fantastic sales), J-Stars Victory Vs has yet to receive a release date in Japan (never mind an international announcement), and there is still no word on any possible home console port of Zenkai Battle Royale. Tap Battle for Android-based (and eventually iOS) devices also has no international announcement just yet.
That all being said, Namco-Bandai's big games preview day is coming up soon this month, and it would be the prime place for an announcement of this type! Last year's "Global Gamers Day" brought us the formal reveal of Dragon Ball Z for Kinect. Hopefully we get a pleasant surprise this year.
Thanks to John-Edvard for the heads-up and screen grab!