FUNimation has announced that their home video release for the film Dragon Ball Z: Battle of Gods will drop 07 October 2014 in North America on DVD and Blu-ray.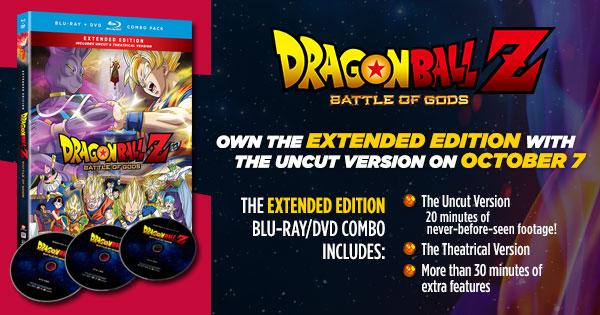 As hinted at by Manga UK's previously-announced release (set for November 10th), the release will feature both the original theatrical version of the film along with the extended edition aired on Fuji TV earlier this year.
A Blu-ray/DVD combo pack (MSRP $34.98), DVD-only set, and digital download versions will be available.
The extended version of the film is not available on home video in Japan.
Flower Mound, Texas (August 19, 2014) – FUNimation® Entertainment, North America's leading anime company, is bringing Dragon Ball Z to Blu-ray & DVD in a big way. Right on the heels of its limited-run, highly successful theatrical release, Dragon Ball Z: Battle of Gods will be hitting online and retail shelves October 7, 2014. "We're thrilled to be able to bring new Dragon Ball Z content back into homes after so many years" said Gen Fukunaga, President and CEO of FUNimation Entertainment.

Fans of the series have a lot in store for them with this home video release. The Dragon Ball Z: Battle of Gods Extended Edition on Blu-ray/DVD Combo Pack comes with two versions of the film: the Uncut Version – which includes an additional 20 minutes of never-before-seen footage – and the Theatrical Version. It also includes over 30 minutes of extra features, including an in-the-booth featurette with the fan favorite cast.
FUNimation recently toured the movie's English dub in a limited run across North American theaters, grossing $1 million its first night.