With 45 days remaining until the film's debut, the official blog to promote Dragon Ball Z: Revival of "F" has updated with a short piece on one of the more elaborate merchandising tie-ins for the film: Dragon Ball-themed packages of Fit's gum which when scanned allow you to "summon Shenlong" on your smartphone thanks to a special app:
こんにちはスタッフです。
映画の公開まであと45日!ついに一か月半まで迫ってまりました!

今回は映画の公開記念で様々なタイアップを実施しています!
その中の1つ「Fit's」さんをご紹介です。

「ドラゴンボール改」の特別描き下ろしイラストのパッケージで「Fit'sオラの元気玉味」「Fit'sかめはめ波ワイアン味」の2種類が発売中です!
そしてなんと!スマートフォン用アプリで神龍をよびだせちゃうキャンペーンも実施中!
皆さんドラゴンボールボールを7つ集めて「出でよ!神龍」ということで、よびだしてみてくださいね。
願いをかなえてくれます!!
※神龍はすごい速さで天空へ出現するのお見逃しなく!

アプリ詳細/ダウンロードはこちら
http://lotte-fits.jp/cp/

---

Hello, staff here.
Just 45 days to go until the movie debuts! It's already down to a month and a half!

This time around they're doing all kinds of tie-ins to celebrate the film's premiere! Let's look at one of them, "Fit's" gum.

Right now two different flavors are on sale with packages featuring special newly-drawn "Dragon Ball Kai" illustrations: "Fit's: My Genki-Dama Flavor" and "Fit's: Kamehame-Hawaiian Flavor"!

And that's not all! They're even running a campaign where you can summon Shenlong with a smartphone app!

Once you collect all seven, try and summon the dragon by saying "Come forth, Shenlong!"
Your wish shall be granted!
*Don't miss seeing Shenlong appearing in the sky at fantastic speed!

App details/down-load here:
http://lotte-fits.jp/cp/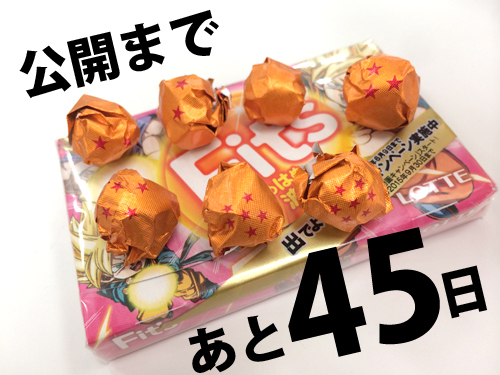 The story for Revival of "F", opening nationwide in Japan 18 April 2015 in 2D and IMAX 3D, is being crafted by original manga author Akira Toriyama, who stated he is writing it, "…as though it were a continuation of the manga when it was in serialization," and that while it will, "…of course be a continuation of the previous Battle of Gods," he has also, "…deliberately increased the amount of action scenes by a good deal." Tadayoshi Yamamuro, who worked for many years as character designer and animation supervisor on the Dragon Ball franchise, will serve as the film's director and animation supervisor. Norihito Sumitomo will return from Battle of Gods and the Majin Boo arc of Dragon Ball Kai for musical composition duties. Momoiro Clover Z will contribute a song alongside Maximum the Hormone, whose "F" will be used as a "battle song" during the film. Revival of "F" is set to bring back Freeza and will also include two new characters (Sorbet and Tagoma), feature Beerus and Whis again from Battle of Gods, and much more.
We will continue to keep tabs on this blog and translate whatever news it reveals, so stay tuned…!