This week's May 2015 issue of V-Jump in Japan provides a few updates on the upcoming film, Dragon Ball Z: Revival of "F", revealing Akira Toriyama's character design for Freeza's powered-up new form, "Golden Freeza".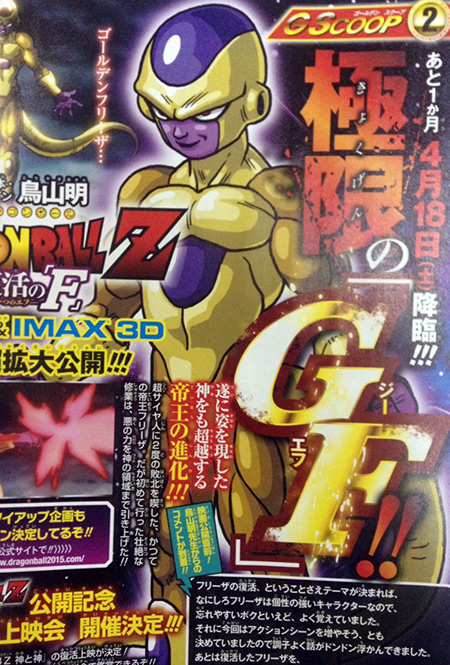 A quote from Akira Toriyama is also included, explaining how his script for the new movie came together:
フリーザの復活、ということさえテーマが決まれば、なにしろフリーザは個性の強いキャラクターなので、忘れやすいボクといえど、よく覚えていました。それに今回はアクションシーンを増やそう、とも決めていましたので調子よく話がドンドン浮かんできました。あとは復活したフリーザを、どうアップグレードさせるのか、ということだけです。幸いな事に、前回の『神と神』で脚本家の方にヒントをいただいたビルスとウイスのキャラも十分に立っています。これらを組み合わせて珍しくスンナリ完成したストーリー。アニメーターの皆さんは超大変でしたでしょうけど。(笑)楽しんで観ていただけたら本当にうれしい悲鳴です!キャーッ!(ジジイの悲鳴)

---

Once the theme, of Freeza's resurrection at the very least, was set, since Freeza is an extremely distinct character, even a forgetful person like me remembered him well. Plus, this time I had also decided to increase the amount of action scenes, so more and more story ideas came easily. All I had left was [to decide] how to upgrade the rejuvenated Freeza. Luckily, the characters of Beerus and Whis, who I took some hints for from the scriptwriter for the last movie, Battle of Gods, stood out plenty already. Combining these [elements] together, the story was completed smoothly, which is rare for me. All those animators probably had a super tough time of it, though. (laughs) If you were to enjoy watching it, I would truly scream with delight! Kyaa! (an old man's scream)
The story for Revival of "F", opening nationwide in Japan 18 April 2015 in 2D and IMAX 3D, is being crafted by original manga author Akira Toriyama, who stated he is writing it, "…as though it were a continuation of the manga when it was in serialization," and that while it will, "…of course be a continuation of the previous Battle of Gods," he has also, "…deliberately increased the amount of action scenes by a good deal." Tadayoshi Yamamuro, who worked for many years as character designer and animation supervisor on the Dragon Ball franchise, will serve as the film's director and animation supervisor. Norihito Sumitomo will return from Battle of Gods and the Majin Boo arc of Dragon Ball Kai for musical composition duties. Momoiro Clover Z will contribute a song alongside Maximum the Hormone, whose "F" will be used as a "battle song" during the film. Revival of "F" is set to bring back Freeza and will also include two new characters (Sorbet and Tagoma), feature Beerus and Whis again from Battle of Gods, and much more.