Bandai Namco has provided detailed notes for a forthcoming patch hitting Dragon Ball FighterZ this week: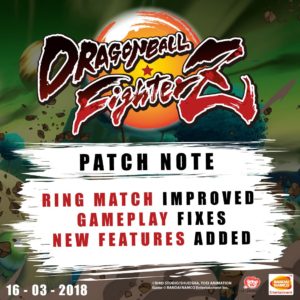 MODES

REPLAY CHANNEL: To enable implementation of the below gameplay adjustments (see "GAMEPLAY" section), recorded data from Replay Channel will be erased
WORLD MATCH: Changed rematch system to 3 matches in both Ranked and Casual World Match
RING MATCHES: Improved match-making and server stability

GAMEPLAY

SSGSS GOKU: Fixed a bug that makes "x10 Kaioken Kamehameha" combo continue even if the opponent gets away from the attacks
CAPTAIN GINYU: Fixed a bug that makes Ginyu Force members collide with the opponent character and sometimes interrupts the latter's attacks
NAPPA: Fixed a bug that makes Saibamen collide with the opponent character and sometimes interrupts the latter's attacks
ALL CHARACTERS: Fixed a bug that makes characters float in the air if Dragon Rush Clash happens when landing from mid-air back step
ALL CHARACTERS: Fixed a bug that makes main characters say the wrong name when calling a Z-Change or Z-Assist
ALL CHARACTERS: Fixed a bug that alters the hit box of Z-Assist characters under certain circumstances
HIT/SSGSS GOKU/SSGSS VEGETA: Fixed a bug that triggers Z-Change voice over dialogues instead of Z-Assist ones

NEW FEATURES

Z-UNION: Added Z-Union feature that enables players to join "Unions" (fan clubs) of their favorite character and get special rewards. And the longer you stay in a Union, the better the rewards become.
GAME LOBBY: Added the possibility to leave the Lobby by using the stairs at the entrance
OFFLINE LOBBY: Added option to enter the Offline Lobby from title screen
The new updates follow a previous batch of fixes after a commitment from Bandai Namco and producer Tomoko Hiroki where the company outlinined a roadmap for continued support and updates.
The 3-on-3, "2.5D" fighting game is developed by Arc System Works for the PlayStation 4, Xbox One, and PC (via Steam). The game runs at a 1080p resolution and 60fps frame rate, with higher resolutions available on the PlayStation 4 Pro and Xbox One X consoles, as well as the PC. Playable characters include Son Goku, Son Gohan (Cell arc design), Vegeta, Freeza, Cell, Boo (Good), Trunks, Piccolo, Kuririn, #16, #18 (with #17), Yamcha, Tenshinhan (with Chiaotzu), Ginyu (with teammates), Nappa (with Saibaimen), Gotenks, Son Gohan (Boo arc design), Boo (Pure), Hit, Beerus, and Goku Black (with Zamasu), as well as "Super Saiyan God Super Saiyan" (SSGSS, or "Super Saiyan Blue") versions of Goku and Vegeta that can be accessed early via pre-orders or unlocked through gameplay. The Akira Toriyama-designed "#21" has also been revealed as a new character central to the game's story mode. Upcoming paid DLC characters are set to include Broly and Bardock, along with at least six other characters.
Dragon Ball FighterZ was released 26 January 2018 in North America and Europe, and 01 February 2018 in Japan.
Alongside its Japanese release, Bandai Namco announced that they had shipped two million copies of the game, making it the fastest-shipping game in the franchise's history.
Arc previously worked on Dragon Ball Z: Extreme Butōden for the Nintendo 3DS, as well as the Super Sonic Warriors games (Bukū Tōgeki and Bukū Ressen) on the Nintendo Game Boy Advance and Nintendo DS. The developer is otherwise known for their Guilty Gear and BlazBlue series of fighting games.