Each month, Toyotarō provides a sketch — as well as a brief comment — on the official Japanese Dragon Ball website for a character that has not appeared in Dragon Ball Super. Thus far, Toyotarō has provided sketches of #8, Lunch, Chapa with Oob, Tambourine, and Man-Wolf. For his May entry, Toyotarō has contributed a sketch of Tapion: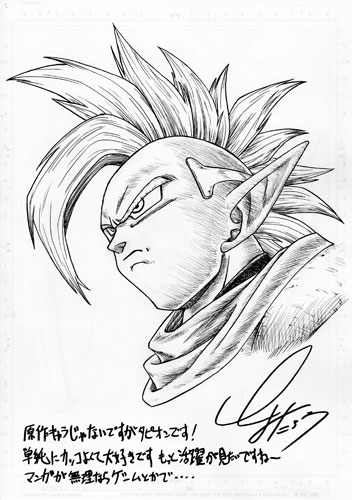 It's not a character from the original comic, but here's Tapion! I simply find him cool, and I like him a lot. Y'know, I'd love to see him play a bigger role. If not in the comic, then in a game or something…
Tapion originally appeared in the thirteenth Dragon Ball Z theatrical film in 1995, and has subsequently appeared in several video games. Most recently, he appeared as a playable character and comrade in Dragon Ball XENOVERSE 2 downloadable content.
This sketch and comment set has been added to the respective page in our "Translations" archive.