Following a seemingly-accidental leak out of Taiwan last month, a short promotional video for SSGSS Vegetto, one of the next paid downloadable characters coming to Dragon Ball FighterZ, has been released showcasing some of his special moves:
The video concludes with a glimpse at the in-game alternate colors, player lobby character, and Z-Stamp that will accompany him for those that pay for access to the character.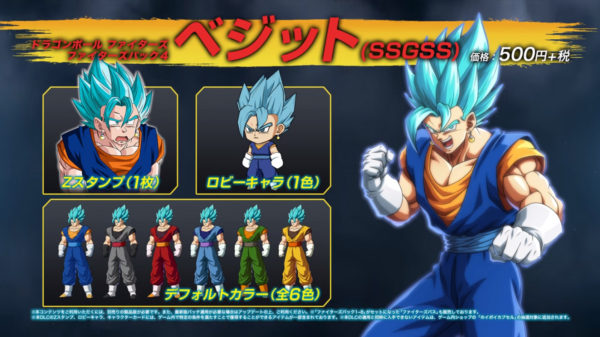 Vegetto — a Potara earring fusion of Vegeta and Son Goku ("Kakarrot") — debuted in the Boo arc of the original series. The fusion reappears in a "Super Saiyan God Super Saiyan" (or simply "Super Saiyan Blue") form during the Future Trunks arc of Dragon Ball Super.
The character will be made available (alongside Merged Zamasu) 31 May 2018 individually for ¥500/$5, or as part of the game's game's optional $34.99 "FighterZ Pass" covering eight total characters. The first two additional characters, Bardock and Broli, were released last month. Though extensive datamining has taken place among fans, the remaining fighters beyond these four have yet to be officially announced.
The 3-on-3, "2.5D" fighting game is developed by Arc System Works for the PlayStation 4, Xbox One, and PC (via Steam). The game runs at a 1080p resolution and 60fps frame rate, with higher resolutions available on the PlayStation 4 Pro and Xbox One X consoles, as well as the PC. Playable characters include Son Goku, Son Gohan (Cell arc design), Vegeta, Freeza, Cell, Boo (Good), Trunks, Piccolo, Kuririn, #16, #18 (with #17), Yamcha, Tenshinhan (with Chiaotzu), Ginyu (with teammates), Nappa (with Saibaimen), Gotenks, Son Gohan (Boo arc design), Boo (Pure), Hit, Beerus, and Goku Black (with Zamasu), as well as "Super Saiyan God Super Saiyan" (SSGSS, or "Super Saiyan Blue") versions of Goku and Vegeta that can be accessed early via pre-orders or unlocked through gameplay. The Akira Toriyama-designed "#21" is a new character central to the game's story mode. Broli and Bardock were the first two paid downloadable characters made available.
Dragon Ball FighterZ was released 26 January 2018 in North America and Europe, and 01 February 2018 in Japan. Alongside its Japanese release, Bandai Namco announced that they had shipped two million copies of the game, making it the fastest-shipping game in the franchise's history.
Arc previously worked on Dragon Ball Z: Extreme Butōden for the Nintendo 3DS, as well as the Super Sonic Warriors games (Bukū Tōgeki and Bukū Ressen) on the Nintendo Game Boy Advance and Nintendo DS. The developer is otherwise known for their Guilty Gear and BlazBlue series of fighting games.