FUNimation's online shop reveals an 02 April 2019 release date for their seventh part of the Dragon Ball Super television series on DVD and Blu-ray.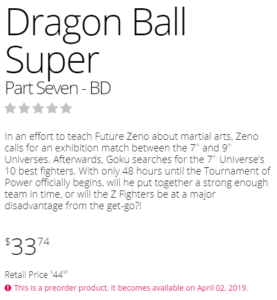 In an effort to teach Future Zeno about martial arts, Zeno calls for an exhibition match between the 7th and 9th Universes. Afterwards, Goku searches for the 7th Universe's 10 best fighters. With only 48 hours until the Tournament of Power officially begins, will he put together a strong enough team in time, or will the Z Fighters be at a major disadvantage from the get-go?!
The bilingual (English/Japanese) two-disc set will span episodes 79 to 91 and is slated to contain 16 minutes of bonus material. The set will retail for $39.98 MSRP on DVD and $44.98 MSRP on Blu-ray, and is also available to pre-order on Amazon in addition to FUNimation's own online shop.
The Dragon Ball Super television series concluded in March 2018 with 131 total episodes. FUNimation owns the American distribution license for the series, with the English dub airing on Cartoon Network, and the home video release reaching its sixth box set this month.