The latest addition to our "Press Archive" is another fun blast-from-the-past: a general overview of the "anime invasion" from the August 14, 1995 issue of Newsweek, which happens to also mention the impending broadcast of FUNimation's English dub of the Dragon Ball television series.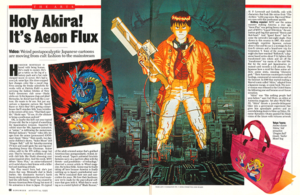 Imported by cultists since the '60s, Japanese animation, or "anime," is infiltrating the mainstream. Michael Jackson's "Scream" video lifts images from the anime (pronounced ANNI-may) classic "Akira." Next month, two Japanese children's shows, "Sailor Moon" and "Dragon Ball," will hit Saturday-morning TV here and could ignite the next big merchandising frenzy this Christmas.
Enjoy this article over in our "Press Archive" along with over 100 other historical articles and columns from trade publications as well as video game and anime magazines of the era.