Each week the recently revamped Dragon Ball Official Site posts a short "Weekly Dragon Ball News" video hosted by Victory Uchida, which highlights the franchise's most recent news. Today a "New Year's Special Edition" was posted, featuring several project leaders and producers on what to expect from the franchise's video games, merchandise lines, Dragon Ball Super manga series, and upcoming movie in 2022.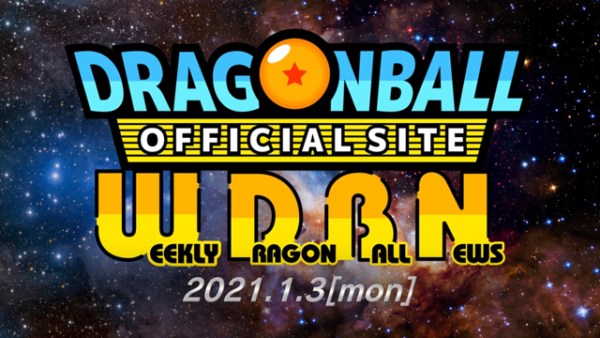 The first portion of the video highlights the franchise's various current video games, including Dragon Ball Legends, Dragon Ball Z: Dokkan Battle, Dragon Ball Z: Kakarot, Dragon Ball XENOVERSE 2, Dragon Ball FighterZ, and Dragon Ball: The Breakers. The majority of the producers merely summarize their achievements in 2021 and provide a sense of optimism for more great things to come in 2022. The second portion highlights upcoming merchandise, most of which includes figures, cards, and other various items pertaining to the upcoming Dragon Ball Super: Super Hero movie. The producer for Super Dragon Ball Heroes does note that the "Big Bang Mission" story line will be wrapping up with the release of Mission 12 on 13 January 2022, but that the new "Ultra God Mission" will launch in March 2022.
Victory Uchida, who is also V-Jump's editor for the Dragon Ball Super manga, then covers the ongoing series. He officially confirms that the Granolla the Survivor story arc will quickly be reaching its climax, following one more turn of events, and then a new story arc will commence sometime in 2022. Uchida is vague on the exact time frame for the start of this upcoming, new story arc.
Finally, Shueisha executive producer Akio Iyoku provides a quick update on the upcoming Dragon Ball Super: Super Hero movie, which is now slated to premiere in Japan on 22 April 2022. After saying he is currently working hard to finish up the movie, he notes that original author Akira Toriyama is so far really pleased with it, and he hopes everyone will enjoy the new animation. Iyoku then teases that there may also be something else other than the movie coming in 2022, before noting it should be a great year for Dragon Ball. This statement is left intentionally vague without saying anything specific about any specific property or medium, so any speculation about it is merely that: speculation. It is perhaps worth noting that while Iyoku has been heavily involved in the production of the franchise's recent movies, he has had no credited involvement in any of its television series to date. Wrapping up the segment, Iyoku replays the recent trailer that debuted at Jump Festa '22.