In conjunction with the "Super Stage" panel hosted this last weekend at the second annual "Dragon Ball Games Battle Hour" event, Toei announced advance tickets for the upcoming Dragon Ball Super: Super Hero movie will go on sale 04 March 2022 in Japan. Ticket prices come in at ¥1,500 for general admission and ¥900 for children 3 years and up, but will only be available for purchase at select theaters. Those purchasing advance tickets will also receive one of two exclusive clear files as a special bonus, with one featuring the movie's extended key visual and the other showcasing Piccolo, Gohan, and Gamma 1 & 2.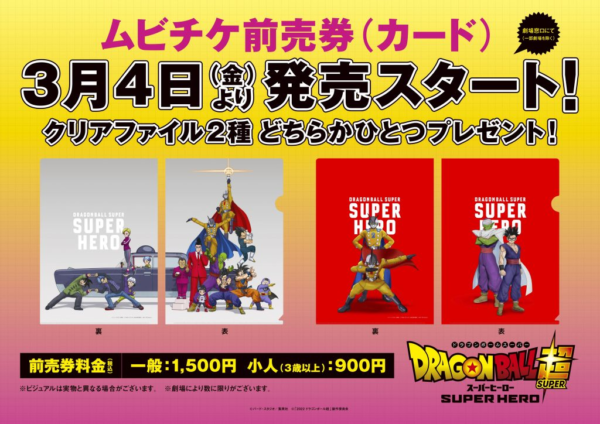 The first attendance present has also been announced, which will include one of two exclusive Super Dragon Ball Heroes cards. While the first card is still a secret, the second will feature Son Goku and provide use of the "Space-Time Transfer" super ability. This premium item will be limited to 1 million copies nationwide in Japan.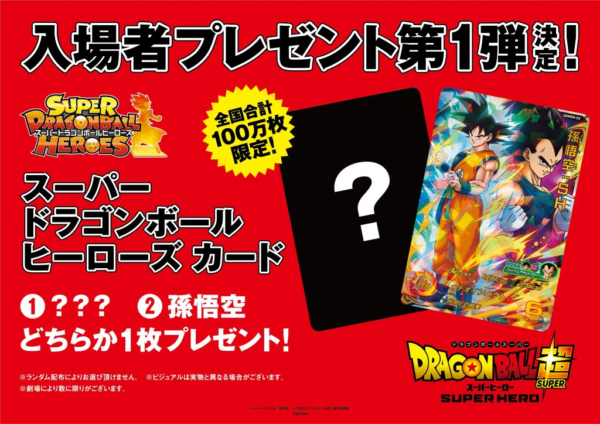 The story, script, and character designs for Dragon Ball Super: Super Hero are being crafted by original manga author Akira Toriyama. Shueisha's executive producer Akio Iyoku has noted that the movie's story will take place after the events in Dragon Ball Super: Broly, but before the 28th Tenka'ichi Budōkai, and feature the revival of the notorious Red Ribbon Army. The film's director will be Tetsuro Kodama, who was most recently the CG Sequence Director for the Dragon Ball Super: Broly film, with Hoon Jung-jae taking over the CG Director role after being a CG effects artist in the preceding two films, Battle of Gods and Resurrection 'F'. The film's theatrical score will be composed by Naoki Satō and it has been noted that the Japanese cast recorded their lines in early October 2021. The movie is currently slated for release in Japan on 22 April 2022 and in North America in the summer of 2022, although no definitive release date has been set at this time.