The on-going promotional mini-manga for the Dragon Ball Heroes arcade game (and upcoming Nintendo 3DS port, which is now set to contain Battle of Gods tie-ins in addition to the arcade version) returns for a fifth chapter in the March 2013 issue of V-Jump released today in Japan.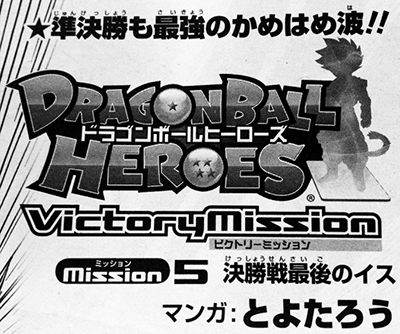 In this latest, seven-page chapter of Dragon Ball Heroes: Victory Mission, "The Last Spot For the Finals" (決勝戦最後のイス / Kesshōsen Saigo no Isu), Beat wins his match and moves on to the finals. "Erito" congratulates him, while Note berates him because his "Charge Impact" is too weak. Next up is Erito versus "Froze": Erito's team consists of a bunch of Super Saiyan 3 characters, while Froze has a bunch of characters from Freeza's family and its spin-offs, as well as an Ōzaru (tying in with some of the latest "Galaxy Mission" updates). Erito is crushed — despite his avatar turning into a Super Saiyan, as well — so the final battle will take place between Beat and Froze here at Heroes Stadium at Satan Mall.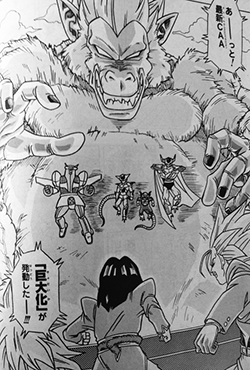 The mini-manga by the mysterious author "Toyotarō" ran for only two pages each in its first first two chapters in the December 2012 and January 2013 issues of V-Jump respectively, but since the new year's batch of issues has been running slightly longer.
The March 2013 issue of V-Jump is currently available via CDJapan, Play-Asia, and Amazon Japan. Tying in with its included chapter of Dragon Ball Heroes: Victory Mission is a card for "Galaxy Mission 6" that allows you to become an Ōzaru, "Son Goku: GT".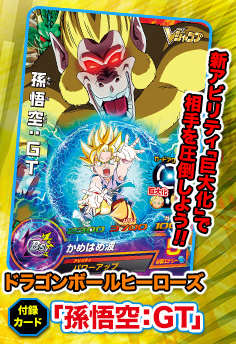 This new chapter has been cataloged on the "Official Manga Spin-offs" page of our "Manga Guide".