The May 2014 issue of Saikyō Jump hits Japanese shelves tomorrow (04 April 2014) in Japan, and our own Julian (SaiyaJedi) was able to secure an early copy.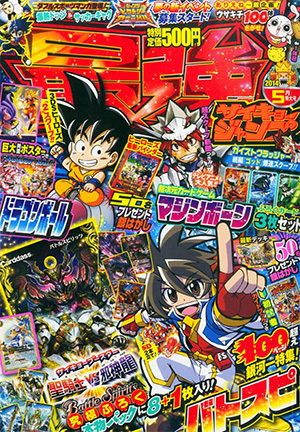 As promised last month, the most relevant bonus with the new issue is the double-sided poster. On one side is the illustration for the fold-out cover of Weekly Shōnen Jump 1995 #07 (which contained Dragon Ball chapter 502), the classic spread of Super Saiyan 3 Son Goku, Super Saiyan 3 Gotenks, and Ultimate Gohan facing off against three forms of Majin Boo. The other side of the poster appears to be a new illustration: Super Saiyan 3 Son Goku versus the fat Majin Boo with the Dragon Ball Kai logo, obviously in promotion of this weekend's impending return of the "refreshed" version of the TV series.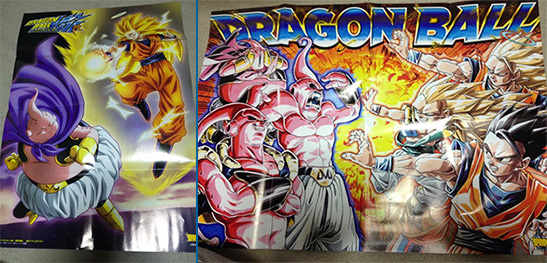 The issue also lists the titles for the first four episodes of the Majin Boo arc of Kai (with Episode 99's title already being known):
Dragon Ball Kai Episode 100

バレちゃった! 新ヒーローは孫悟飯
Found Out! The New Hero is Son Gohan

---

Dragon Ball Kai Episode 101

悟飯が先生! ビーデルの舞空術入門
Gohan's the Teacher! Videl's Introduction to Flight

---

Dragon Ball Kai Episode 102

ドラゴンチーム全員集合! 帰ってきた孫悟空!!
The Dragon Team, All Assembled! Son Goku has Returned!!
Judging by the new episode titles in relation to their original Z-counterparts, it would seem that Dragon Ball Kai episodes 100-103 may roughly cover Dragon Ball Z episodes 200-208ish.
The 28th monthly chapter of Naho Ooishi's Dragon Ball SD within the issue covers up to Black's defeat and Goku picking up the Dragon Balls from Red's office.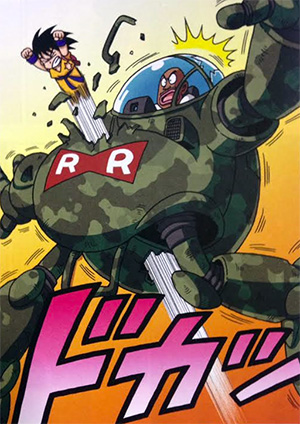 In addition to Dragon Ball SD, in terms of manga-content, this month's issue contains another, fifth chapter of the Dragon Ball GT "Anime Comic" covering up to the end of the fight with Wu Xing Long (Five-Star Dragon) and the group receiving the Dragon Ball. At this point, the comic seems to be sticking with a pace of about two chapters per episode.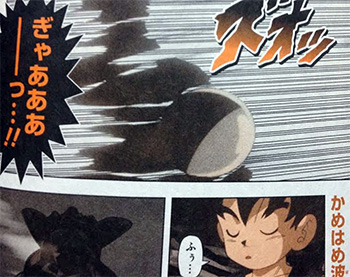 The issue also contains a preview of Dragon Ball Heroes: Ultimate Mission 2 for the Japanese Nintendo 3DS covering the same information we received from the most recent issue of V-Jump and the game's teaser promotional video.
There is currently a touring tournament for Dragon Ball Heroes and One Piece Kings, "Strong Tour 2014", with a playoff to determine area representatives. The tour starts in Hiroshima on 13 April 2014 and works its way across the country, ending in Koshigaya (Saitama Prefecture) on 06 July 2014. Both Akira Toriyama and Eiichiro Oda contributed images cheering on the participants: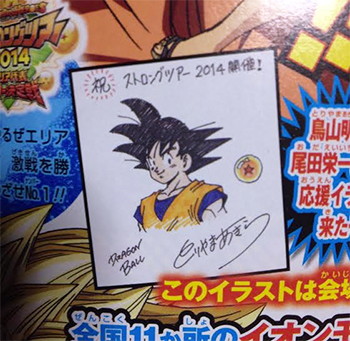 Finally, the issue contains the second entry into the short, new "Tell Us, Toriyama-sensei!" Q&A session between Naho Ooishi and original manga author Akira Toriyama:
Why did you come up with the "Scouter" item?

My number-one goal in coming up with it was because, if an opponent's strength could be seen as a number, it would be very easy for the readers to understand when I put it in the comic. However, I could foresee that it'd be an inconvenience for me down the line, because if you knew a concrete number, then you could tell who would win or lose, so with regards to Goku & co., I decided that [their power] would change due to "Ki" and couldn't be adequately measured.

In addition, it's a very convenient item to create peril, since with enemies equipped with them, their location could become known, and they could be reported.
The second Q&A will be archived shortly on its respective page in our "Translations" section.
The June 2014 issue of Saikyō Jump, due out 02 May 2014 due to Golden Week, is set to contain bonus Dragon Ball Heroes cards of Super Saiyan 3 Son Goku (whose main technique is "Super Dragon Strike Fist" with a Card Action Ability of "Double") and Majin Boo (whose main attack is "Innocence Canon" with a Card Action Ability of "Sparking"), both of which use their respective illustrations from this month's poster. Perhaps most interesting in next month's issue will be a "scoop" with Toriyama answering more questions about the Boo arc, a pencil board with the cover of Volume 41 of the manga, and an "illustration book" which we do not have any further details on just yet.
The May 2014 issue is available for purchase at CDJapan and Amazon Japan for ¥500.