With the impending "official announcement" of a new Dragon Ball Z movie coming this weekend in both V-Jump and Weekly Shōnen Jump, Toei has been hard at work creating the new movie's official website. On 15 July 2014, mere hours after news of the movie first broke online, Toei acquired the dragonball2015.com domain and shortly thereafter updated it with the message "coming soon". As of this post the website is currently locked down, requiring a password to gain access, presumably so it can be updated without the prying eyes of the internet. However, the page's code is still viewable, and many fans took note of a metadata image hidden within the page's code that will appear when the site is linked to on various social media networks, such as Facebook.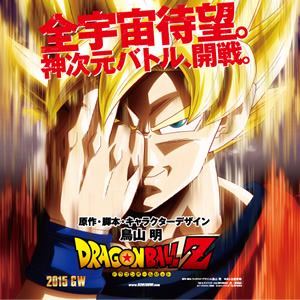 The illustration itself appears to be the movie's official promotional artwork, as it is the same one being used for the official announcements in V-Jump and Weekly Shōnen Jump. The top of this promotional image appears to contain the movie's tagline:
全宇宙待望。神次元バトル、開戦。

---

The Whole Universe Has Been Waiting. A Godly Dimension of Battle Begins.
The tagline is chock full of wordplay, which can be somewhat misleading. In this case the 神 (shin; read as "godly") is a pun on something "new" and 次元 (jigen; read as "dimension") can also be interpreted as a synonym for "scale", giving us an indication that the battle, and possibly even the movie itself, will be on a "new level" (not necessarily that it's taking place in a "new/godly dimension"). You'll also notice that this is very similar in character to the original taglines used for Battle of Gods, which was 最強、始動。("The mightiest make their move." — or perhaps in light of the plot revealed later on, "The Strongest Stirs."), followed by 全人類待望。かつてない興奮へー。 ("All Humanity Has Been Waiting. Toward an Unprecedented Excitement–.").
The movie is still yet unnamed, which was also the case back in 2012 with the lead-up to Battle of Gods, and is simply being referred to as "Dragon Ball Z". No exact premiere date has been set yet, but the movie is slated to open during Japan's "Golden Week" in 2015. As with Battle of Gods, original author Akira Toriyama will once again be providing the original concept, writing the script, and drawing character designs. The official website will more than likely go live to the public this weekend when the aforementioned Jump anthologies hit store shelves, so stayed tuned!
Thanks to Avenged and JacobYBM for the heads up about this!