Further photo leaks from this month's January 2015 issue of V-Jump (officially out this Friday, 21 November) have allowed us to verify previously reported details about the story for next year's upcoming Dragon Ball Z film, Revival of "F":
平和が訪れた地球——
だがそこにフリーザ軍の残党
ソルベとタゴマが襲来する
彼らの目的は
DB

でフリーザを蘇らせること
かくして宇宙史上最悪の願いは叶えられ
サイヤ人への復讐を目論む「F」が
ついに復活する…!!

---

Earth is now at peace——
but then, the remnants of Freeza's forces,
Sorbet and Tagoma, attack.
Their objective is
to bring Freeza back from the dead with the Dragon Balls.
And so, the worst wish in the history of the universe is granted,
and "F", plotting his revenge against the Saiyans,
is revived at last…!!
We are also now able to verify Toriyama's comment regarding his inspiration for the movie:
今回、フリーザが復活します!
「F」はフリーザのFです。
これは、映画の次回作の話をあれこれ悩んでいた頃、
友人を通じて知り合ったマキシマム ザ ホルモンの
「F」という曲を聴いてひらめいたアイデアです。
「F」はフリーザのことを、えげつなくもカッコよく歌った曲です。
以前「すみません、かってにフリーザのことを歌っちゃいました」
と言われたことを思い出しました。
なるほど、その手があったか!
というわけで、フリーザが復活する話を、
たちまち書きあげることができました。
キャラの性格がよくわかっているので書きやすかったのです。
とうわけでこんどはボクが感謝の意味も込めて
曲のタイトルの「F」 というかっこいい表記を
いただいてしまいました。
もっとも凶暴でもっとも倒し甲斐のある敵。
もちろん、ただ復活しただけじゃないので、
すさまじい対戦をどうぞお楽しみに!

---

This time, Freeza will be revived!
The "F" stands for "Freeza".
This is because it's an idea that came to me in a flash after I listened to a song called "F" by Maximum the Hormone, whom I had been introduced to by a friend, back when I was fretting over what to do about the story for the next movie.
"F" is a song that sings about Freeza in a vulgar-yet-cool way.
I remembered how, back then, they told me, "Sorry, but we went ahead and sang about Freeza without asking".
Aha! So that's what I could do!
With that in mind, I was immediately able to write up a story where Freeza is revived.
I know his personality very well, so it was easy to write.
And so this time, as a way of saying "thank you",
I went and took the cool-looking spelling of "F" from the song.
He is the most vicious enemy, who is most worth defeating.
Of course, he hasn't merely been revived, so look forward to a terrific fight!
Back in 2012, Toriyama attended a concert for Maximum the Hormone in Nagoya, and met the band backstage. He even drew them a picture of Freeza with the caption "F", so evidently he was quite taken with the song.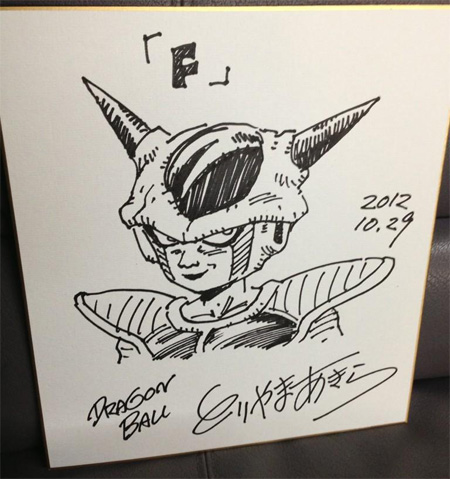 Toriyama's comments have been dutifully archived in our "Translations" section, which we have a feeling will soon be expanding once again as promotion for the new movie enters full swing!
The nature of the "further transformation" line, glimpsed in a previously-leaked image, is also seen in full:
お見せしましょう……
わたしのさらなる変身を!!!!

---

Allow me to show you……
My further transformation!!!!
This is reminiscent of Freeza's line in Chapter 303, where he says, "As a special privilege, allow me to show you!! My final transformation… My true form!!!" (大サービスでごらんにいれましょう!! わたくしの最後の変身を… わたくしの真の姿を!!!) What this new form or forms will entail is unclear. A further transformation beyond Freeza's "final form" was previously seen in Dragon Ball Z Movie 5, where his brother Coola possessed a unique form more powerful than his normal appearance, which had resembled Freeza's "final transformation".
Stay tuned to Kanzenshuu in the coming days for more V-Jump news, as well as a very special update…!