In conjunction with yesterday's August 2018 issue of Shueisha's V-Jump magazine in Japan, Bandai Namco has announced Super Baby 2 as a new playable character coming in the forthcoming "Extra Pack 3" downloadable content for Dragon Ball XENOVERSE 2: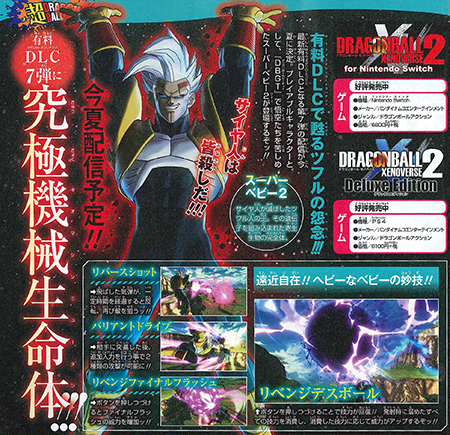 The character's techniques are set to include:
Revenge Death Ball: uses all of the player's ki; the more you have, the more powerful it is
Reverse Shot: reverses course after a set amount of time has passed, allowing you to target your enemy
Variant Drive: after charging your opponent, with extra input, you can do two different kinds of follow-up attacks
Revenge Final Flash: similar to the Revenge Death Ball, you can repeatedly press the button to charge up its power
Super Baby 2 is the transformed state of the Baby-infected Vegeta from the 1996-1997 Dragon Ball GT television series. Though the Great Ape version of Baby Vegeta has made several recent appearances — including within the XENOVERSE series itself — Super Baby 2 was last made a fully-playable, standard fighting game appearance in 2008's Dragon Ball Z: Infinite World on the PlayStation 2. In 2016, Super Baby 2 was added to Dragon Ball Z: Extreme Butōden on the Nintendo 3DS as an assist character.
Following the four paid content packs covered by the game's original season pass, Bandai Namco released two additional paid content packs for Dragon Ball XENOVERSE 2. Last month, Bandai Namco promised additional free and paid content updates coming to Dragon Ball XENOVERSE 2. "Extra Pack 3" is scheduled for release this summer.
Developed by Dimps for Bandai Namco, Dragon Ball XENOVERSE 2 is available worldwide for the PlayStation 4, Xbox One, PC (via Steam), and Switch. In North America, the game launched for consoles 25 October 2016 with a PC release following 28 October 2016. In Europe, the game launched across all platforms 28 October 2016. In Japan, the game launched on the PlayStation 4 console 02 November 2016. The Nintendo Switch port was released in Japan and internationally in September 2017.