Japanese satellite television network ANIMAX has announced on Twitter that it will air Dragon Ball's 2008 Jump Super Anime Tour special, "Heya! Son Goku and Friends Return!!" , as a part of the network's combined 20th anniversary celebration with Weekly Shōnen Jump's 50th anniversary. The celebration will be hosted by comedian Kendō Kobayashi, host of Fuji TV's Mandō Kobayashi, along with Weekly Shōnen Jump's current editor-in-chief Hiroyuki Nakano.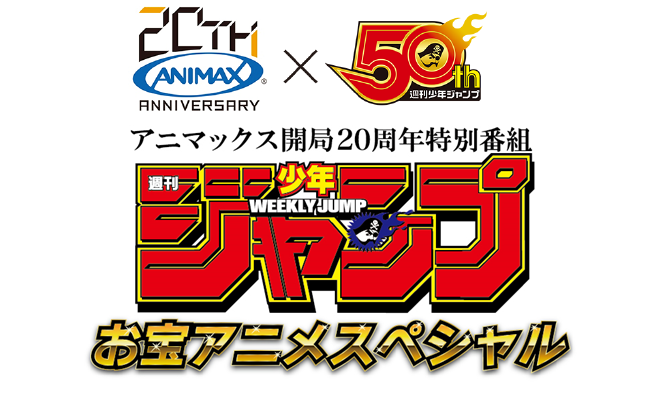 The three-hour long celebration broadcast will begin at 8:00 p.m. on 29 July 2018, with the Dragon Ball special scheduled to air at 8:15 p.m. In addition to the Dragon Ball special, four of the six remaining specials screened at the 2008 Jump Super Anime Tour will also air as a part of the celebration, although it has yet to be revealed which additional specials have been selected.
ANIMAX regularly airs repeats of the various Dragon Ball franchise television series, with Dragon Ball Kai recently kicking off another run from the beginning.
Kendō Kobayashi has previously hosted and contributed to Dragon Ball events such as 2015's "Dragon Ball Super Completion Announcement Event" (where he dressed up as Yajirobe), and prior to that a 2013 television special about the franchise in promotion of the then-upcoming theatrical film Dragon Ball Z: Battle of Gods (which included a pre-written Q&A session with original author Akira Toriyama).
In honor of Weekly Jump's 40th anniversary in 2008, Shueisha's annual Jump Festa hosted a tour to ten cities across Japan entitled the "Jump Super Anime Tour ~The Jump Heroes Great-Gathering~". The tour screened seven newly-animated specials or shorts from popular series serialized in various Jump anthologies, one of which was Dragon Ball; of all the anime series based on a manga, Dragon Ball was the only one that was not currently running in a Jump anthology at that time. To attend the tour, one had to send in an application form; a certain number for each city were drawn at random, and those chosen were sent tickets to attend the screening. Following the completion of the tour, Jump streamed three of the specials online for a limited time, free of charge, on their "Jumpland" website, including versions with accompanying subtitles in English, German, and French.
The special's initial DVD printing in 2009 required one to submit an order form printed in specific issues of Weekly Shōnen Jump, V-Jump, and Jump SQ. A confirmation would be received if the application was submitted in time. In February, one then had to visit a local convenience store listed on the order confirmation to actually pay for the order. Once paid, the order was complete and the DVDs would be shipped that April.
The special was later included on a bonus DVD with the special limited edition of 2013's Dragon Ball Z: Battle of Gods theatrical film.
Thus far, the standard-definition DVD releases remain the highest quality version of the special made available to the public, with the original streaming version being a sub-480p Flash video file; the special's original production resolution (and therefore if a proper HD version exists, rather than an upscale) is unknown.