Each month, Toyotarō provides a sketch — as well as a brief comment — on the official Japanese Dragon Ball website for a character that has not appeared in Dragon Ball Super. Thus far, Toyotarō has provided sketches of #8, Lunch, Chapa with Oob, Tambourine, Man-Wolf, Tapion, Janenba, Broli, Ozotto, Ginyu, Bardock, and Paragus. For his belated December 2018 entry, Toyotarō has contributed a sketch of King Cold the Great, Freeza's father: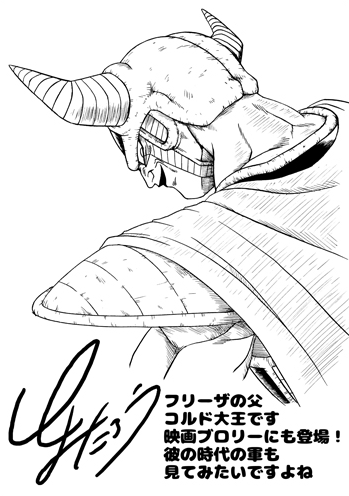 It's Freeza's father, King Cold the Great. He appears in the Broly movie, too! I'd like to see the forces he led in his era, as well.
Originally debuting in chapter 329, King Cold makes an appearance in flashback material at the beginning of the franchise's latest film, Dragon Ball Super: Broly.
This sketch and comment set has been added to the respective page in our "Translations" archive.