Following last month's Super Saiyan God Vegeta reveal, and in conjunction with this week's July 2019 issue of Shueisha's V-Jump magazine, Bandai Namco has announced Universe 2's Ribrianne is coming as paid downloadable content to Dragon Ball XENOVERSE 2 as part of the game's forthcoming "Ultra Pack 1" in June: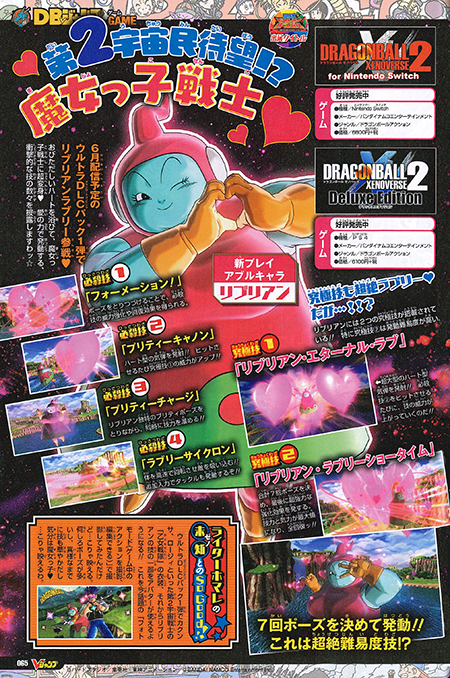 Special moves will include Formation, Pretty Cannon, Pretty Charge, and Lovely Cyclone, as well as super moves Ribrianne Eternal Love and Ribrianne Lovely Shot.
Following the four paid content packs covered by the game's original season pass, Bandai Namco released two additional paid content packs for Dragon Ball XENOVERSE 2. Last year, Bandai Namco promised additional free and paid content updates coming to Dragon Ball XENOVERSE 2; "Extra Pack 3" was released back in August, with "Extra Pack 4" following in December.
Developed by Dimps for Bandai Namco, Dragon Ball XENOVERSE 2 is available worldwide for the PlayStation 4, Xbox One, PC (via Steam), and Switch. In North America, the game launched for consoles 25 October 2016 with a PC release following 28 October 2016. In Europe, the game launched across all platforms 28 October 2016. In Japan, the game launched on the PlayStation 4 console 02 November 2016. The Nintendo Switch port was released in Japan and internationally in September 2017.