Each month, Toyotarō provides a drawing — as well as a brief comment — on the official Japanese Dragon Ball website. Thus far, Toyotarō has provided drawings of #8, Lunch, Chapa with Oob, Tambourine, Man-Wolf, Tapion, Janenba, Broli, Ozotto, Ginyu, Bardock, Paragus, King Cold, Bardock's original television special crew, Onio with his wife, Shiirasu, Great Saiyaman, Nail, Toninjinka, and Zarbon. For his August 2019 entry, Toyotarō has contributed a sketch of Pui-Pui: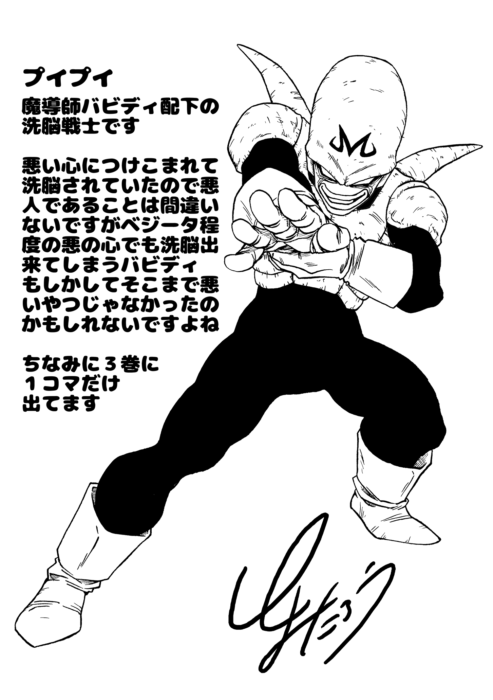 Pui-Pui.

He's one of the mind-controlled underlings of the sorcerer Bobbidi.

Since he was taken in by his wicked heart and mind-controlled, there's no doubt he's evil. But, given Bobbidi could control someone with only Vegeta's level of evil, maybe he wasn't such a bad guy after all…

Incidentally, he appears in a single panel in volume three.
Pui-Pui briefly appeared — dead! — in a single panel in chapter 16 of the Dragon Ball Super manga. Pui-Pui's name (likely derived from the phrase chichin-puipui in Japanese) is localized as "Pocus" in Viz's English translation of the Dragon Ball manga.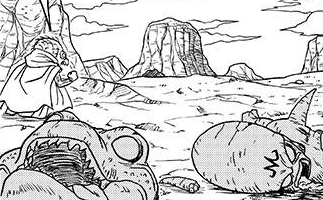 This drawing and comment set has been added to the respective page in our "Translations" archive.