The twelfth collected volume of Toyotarō's Dragon Ball Super manga — currently serialized on a monthly basis in Shueisha's V-Jump magazine — officially hit physical and digital storefronts in Japan today (03 April 2020) for ¥440 + tax. Spanning 192 pages, the volume covers chapters 53-56, and takes its title of "Merusu's True Identity" (メルスの正体 Merusu no Shōtai) directly from chapter 55.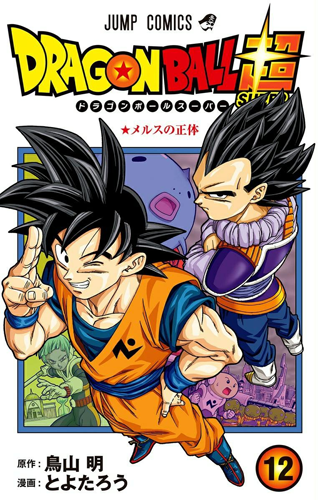 Following a similar inclusion back in volume 10, the twelfth volume also contains a two-page "special manga" (hinted at by Toyotarō on Twitter earlier this week):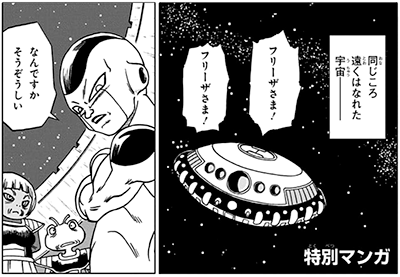 In space, Freeza is interrupted by two of his underlings; escaped prisoners from the Galactic Patrol Prison are running amok on the planet they were set to investigate. Freeza says he has heard there was a rather troublesome prisoner jailed there, and that it may be best to avoid unnecessary conflict for now. They can put that planet off for later; after all, nothing good can come of getting involved with criminals. Kikono wonders if they aren't themselves actually… Freeza cuts Kikono off as Beriblu explains that they are not criminals whatsoever: they simply take part in depopulating planets to sell them at high value to poor alien races in need of a home. It is just business. Freeza tells Beriblu she is exactly right, and asks Kikono if he has any problem with that. Kikono hastily insists that he does not, as Freeza repeats the order to search for other planets. The universe is vast, after all.
The Dragon Ball Super "comicalization" began in June 2015, initially just ahead of the television series, and running both ahead and behind the series at various points. The manga runs monthly in Shueisha's V-Jump magazine, with the series' fifty-eighth chapter coming last month in the magazine's May 2020 issue. Illustrated by "Toyotarō" (in all likelihood, a second pen-name used by Dragon Ball AF fan manga author and illustrator "Toyble"), the Dragon Ball Super manga covered the Battle of Gods re-telling, skipped the Resurrection 'F' re-telling, and "charged ahead" to the Champa arc, "speeding up the excitement of the TV anime even more". Though the television series has completed its run, the manga continues onward, entering its own original "Galactic Patrol Prisoner" arc. Viz is currently releasing free digital chapters of the series, and began their own collected print edition back in 2017. The eighth collected volume was released last month.
The Dragon Ball Super television series concluded in March 2018 with 131 total episodes. FUNimation owns the American distribution license for the series, with the English dub having wrapped its broadcast on Cartoon Network, and the home video release reaching its tenth and final box set back in January.