With only three months left until "Dragon Ball Z: Battle of Gods" hits theaters across Japan on 30 March 2013, Toei has released a packet of promotional images to various media outlets. The packet includes the film's official poster, a piece of promotional artwork, and five screen shots from the film, all from scenes previously shown in the film's first theatrical trailer.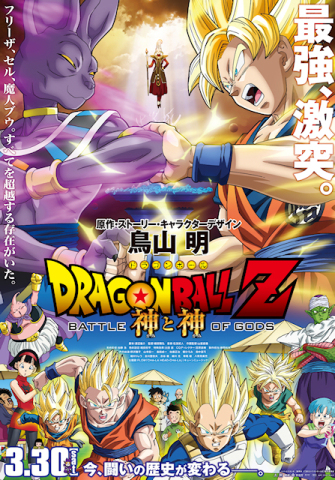 When we first caught a glimpse of the film's poster "in-the-works" it featured the troublesome trio of Pilaf, Shuu, and Mai, who were thought to have apparently been removed from the poster as seen printed in Weekly Shōnen Jump and on the official website artwork. Well, as it turns out, they are again present on this final version of the movie poster (as seen above) in the exact same spot as we saw them before, although now their original placement on the poster makes much more sense. Also now featured are two new taglines near the top of the poster, the first of which is only slightly different than what's previously been used:
最強、激突。
The strongest, clash.

---

フリーザ、セル、魔人ブウ。すべてを超越する存在がいた。
Freeza, Cell, and Majin Boo. There is a being that transcends them all.
It is anticipated that the film's theatrical trailer will be shown this weekend at Jump Festa '13 in Tokyo, and will subsequently be posted on the official "Battle of Gods" website, but we've yet to receive official confirmation of this. In addition to selling advance movie tickets, Toei Animation will also be handing out small promotional pamphlets for the film at their goods booth, which of course has already begun circulating the internet thanks to this 2ch post. The pamphlet contains all of the information originally posted in the official website's "Introduction" section along with short character descriptions, most notably the ones for the two new characters, but also a few old friends:
"Birusu"
A god who governs destruction, maintaining the world's balance. Once his wrath is incurred, he'll destroy nearby planets and life, and is a being feared even by the Kaiō and Kaiōshin.

"Uisu"
A mysterious man working in league with "Birusu".

Pilaf, Shu, Mai
Small-time villains who plot to use the dragon balls to take over the world, but their plans are thwarted by Goku and co.
A few screen shots are also included with the package:
And now, the marketing push for the film has truly begun!