The on-going promotional mini-manga for the Dragon Ball Heroes arcade game (and upcoming Nintendo 3DS port) returns for a fourth chapter in the February 2013 issue of V-Jump released today in Japan. In this latest, seven-page chapter of Dragon Ball Heroes: Victory Mission, "A Rival Appears?!" (ライバル出現!? Raibaru Shutsugen!?), a tournament arc begins, and a potential rival, "Erito" (エリト — possibly a play on "Elite") makes his debut. The story is "to be continued" as usual, indicating that the manga will be going on for at least the foreseeable future.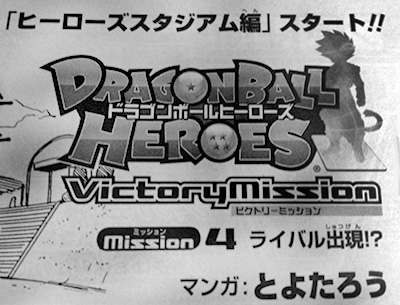 The mini-manga by the mysterious author "Toyotarō" ran for only two pages each in its first first two chapters in the December 2012 and January 2013 issues of V-Jump respectively, while the third chapter last month was expanded to nine pages.
The February 2013 issue of V-Jump is currently available via CDJapan, Play-Asia, and Amazon Japan.
This new chapter has been cataloged on the "Official Manga Spin-offs" page of our "Manga Guide".