The February 2014 issue of Saikyō Jump, released earlier this month in Japan, contains a few teases of new Bardock-related material as well as more teases that will begin to surface in next month's issue of the magazine, officially due out 04 February 2014.
Within this month's magazine are a few details about the upcoming "JM2" ("Ja'aku Ryū Mission 2" or "Evil Dragon Mission 2") coming to the latest chapter of the arcade version of Dragon Ball Heroes in Japan. The card set is slated to feature two secret cards, one of which is Kuriza (Freeza's son from Akira Toriyama's spin-off/gag/parody manga Neko Majin). The other character is a "warrior of rage" who is getting a "further super evolution" in the face of Freeza's clan.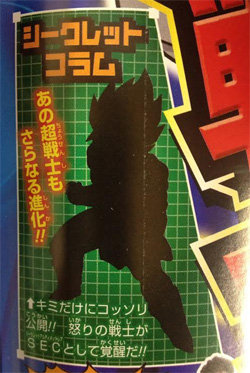 Is this Bardock receiving yet another new power-up? Will it be a further stage of Super Saiyan, or perhaps we are being led down the path of establishing Bardock as the "original" Super Saiyan God…?!
Well, it turns out that Bardock is actually receiving — at least for now, anyway? — a Super Saiyan 2 transformation, courtesy of a new "Secret Ultimate Rare" card. The design itself appears to just be a bit of red energy sparks surrounding him. Is this a hint toward a "God" transformation later on, though…? We have no idea! This newly Super Saiyan 2 Bardock has an attack named "Final Heat Phalanx".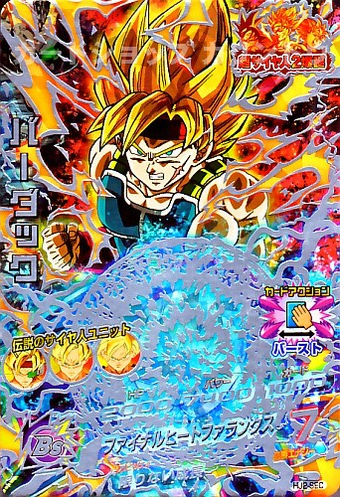 Next month's issue of Saikyō Jump will come packed with a "Super Kanzenban" version of Naho Ooishi's Episode of Bardock, originally a three-chapter "sequel" to the character's original TV special printed in the August, September, and October 2011 issues of V-Jump. The manga also received a complete reprint in the April 2012 issue of V-Jump packed with two new pages that themselves adapted material from the animated version of the special — the animated Episode of Bardock special debuted at Jump Festa '12 and was included internationally on the Xbox 360 video game Dragon Ball Z for Kinect. This version of the manga will come in a format mimicking the tankōbon release of the Dragon Ball manga, with the cover using the format adopted in May 2009.
In addition to the manga itself, next month's Saikyō Jump will also come with a special Dragon Ball Heroes card featuring Bardock, albeit one where he is depicted in his base form.
In addition to / as a part of the "Super Kanzenban" included in the issue (and shown off in today's 2014 #9 issue of Weekly Shōnen Jump in Japan), the magazine will also come packed with a brand-new Q&A with original manga author Akira Toriyama about the character of Bardock.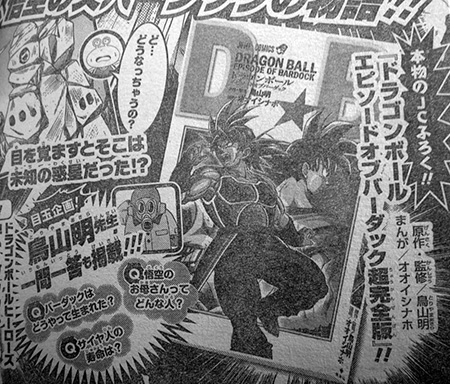 Toriyama's most recent commentary on the character came packed with a bonus original illustration with the "Special Selection DVD" in 2011 containing the major Dragon Ball Z TV specials. Toriyama's comments on the character are always interesting due to the fact that Bardock was a Toei Animation (primarily Katsuyoshi Nakatsuru) creation, and at one point, Toriyama himself could not remember if Bardock had appeared in the manga.
This month's February 2014 issue of Saikyō Jump, which also contains the 25th chapter of Naho Ooishi's Dragon Ball SD since its monthly reboot, is currently available at CDJapan and Amazon Japan.
Next month's March 2014 issue – the one coming with the "Super Kanzenban" version of Episode of Bardock – is available for pre-order at CDJapan.