Last week's September 2021 issue of Shueisha's Saikyō Jump magazine kicked off a new "Dragon Ball Super Gallery" series in commemoration of the Dragon Ball franchise's upcoming 40th anniversary.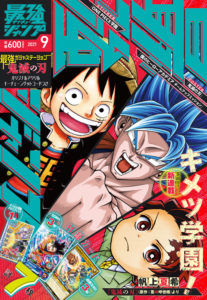 The first contribution to the series, which aims to have different artists all contribute their own spin on the original 42 tankōbon covers, comes courtesy of Masashi Kishimoto (Naruto). The image — Kishimoto's take on the 11th tankōbon cover — and its accompanying comment are published on the back cover of the magazine; a clean version of the image was also distributed to press in Japan and featured on the official Saikyō Jump website:
Kishimoto commented:
Out of all the many characters in Dragon Ball, my favorite is Kuririn. As I read, I could really empathize with the guy desperately chasing behind the stronger Goku, who was always out in front. I could hardly contain my love for chapters where Kuririn got to play a major role. Congratulations on Dragon Ball's 40th anniversary!
The image uses the refreshed 2009 branding style of the tankōbon covers, which lost the solid color banding and corresponding thin lines in favor of larger, separate, and bold "D" and "B" lettering in green with yellow borders.
Saikyō Jump ("The Strongest Jump") is currently a monthly magazine published in Japan by Shueisha under the "Jump" line of magazines. The magazine began as a quarterly publication in 2012, went monthly in 2013, went bimonthly in late-2014, and returned to a monthly format this month. The magazine's focus is spin-off and supplementary manga series aimed at a young audience, while also including game promotions, news coverage, and more. The magazine currently serializes content such as Yoshitaka Nagayama's Super Dragon Ball Heroes: Big Bang Mission!!! and the Dragon Ball GT Anime Comic. For calendar year 2018, Saikyō Jump's readership comprised of 58.5% in upper elementary school, 28% in lower middle school, 11% in middle school, and 2.5% in high school or older.
Kishimoto is a long-time fan of the Dragon Ball franchise, noting Akira Toriyama as a source of inspiration. The first run of kanzenban editions of the Dragon Ball manga released from 2003 to 2004 included bonus pamphlets, with every other volume featuring a tribute image and comment from a fellow manga author/artist. Following the debut from Ei'ichirō Oda (One Piece), Kishimoto took the second slot with an image of Son Goku and Kuririn at the Tenka'ichi Budōkai: