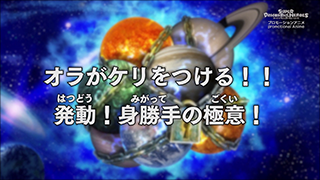 オラがケリをつける!!発動!身勝手の極意!
Ora ga Keri o Tsukeru!! Hatsudō! Migatte no Gokui!
I'll Finish This!! Ultra Instinct Goes Into Operation!
Episode Information
Episode Summary
On the Prison Planet, now collapsing from the pressure of the battles it's sustained, Goku: Xeno and Vegeta: Xeno stare down Fu in their Super Saiyan 4 forms. Cumber emerges behind Fu, not yet down for the count. He begins to power up and screams for someone to fight him. In his rage, he scatters blasts of energy across the planet.
Fu looks up toward a moon above the battlefield, and says it appears his objective is complete. "They" will soon revive. He thanks the Saiyans and awaits things becoming even more interesting from here. He then slices open a rift in space-time and begins to make his escape. Coola follows after Fu, promising to not let him go, but the rift closes before Goku: Xeno can chase after the two of them as well.
Vegeta: Xeno suggests they deal with Fu later. What's more important now is getting Trunks and co. away from the battlefield. Cumber has formed a massive energy ball, and the Time Patrollers fly down to the ground to meet it. As Goku: Xeno and Vegeta: Xeno struggle against the blast, Vegeta wonders how long his Goku will remain asleep. He shouts out for him to wake up.
Goku awakens, his irises now silver, and a pillar of bright blue-silver light suddenly erupts from the ground. Goku moves forward, now awakened to his Ultra Instinct state. He challenges Cumber and instantly dodges his punch and knocks Cumber to the ground. Goku: Xeno marvels at the strength of his counterpart and calls for everyone to get ready to leave the planet via his teleportation. He, Vegeta: Xeno, Vegeta, Trunks and Mai make their escape. Goku's fight against Cumber continues. He finishes Cumber off with a Kamehameha.
Left on the collapsing Prison Planet, Goku looks up at the moon, which has begun to crack and taken on a purple hue. Merged Zamasu, decked in an eyepatch and unusual arm bands, appears in front of the moon along with four other mysterious figures. He lifts Cumber up toward them with his finger, then disappears with Cumber in tow. Goku, left confused and alone on the Prison Planet, screams as the planet explodes.










Next Time:


"Zamasu Revived?! The Curtain Rises on the Universal Conflict Arc!"
Episode Credits
All credits listed below are as originally presented in the promotional episode. The credit structure used is quite simple; the staff involved with the production of the series as a whole are listed in the opening credits and the staff involved with this specific episode are listed in the ending credits.
Cast Credits
孫悟空

Son Goku

孫悟空: ゼノ

Son Goku: Xeno

野沢雅子

Masako Nozawa

 

ベジータ

Vegeta

ベジータ: ゼノ

Vegeta: Xeno

堀川りょう

Ryō Horikawa

 

トランクス

Trunks

草尾 毅

Takeshi Kusao

マイ

Mai

山田栄子

Eiko Yamada

フュー

Fu

山口勝平

Kappei Yamaguchi

クウラ

Coola

中尾隆聖

Ryūsei Nakaō

カンバー

Cumber

小山力也

Rikiya Koyama
Opening Credits
企画協力

Planning In Cooperation With

集英社「Vジャンプ」編集部

Shueisha's "V-Jump" Editorial Department

まんが

Manga

集英社 最強ジャンプ 「スーパードラゴンボールヒーローズユニバースミッション!!」ながやま由貴

Shueisha's Saikyō Jump — "Super Dragon Ball Heroes: Universe Mission!!" by Yoshitaka Nagayama

主題歌

Theme Song

スーパードラゴンボールヒーローズ
「ユニバースミッションシリーズ テーマソング」

Super Dragon Ball Heroes
"Universe Mission Series Theme Song"

プロデュース

Production

うた

Vocals

エンジニアよしとくん

Engineer Yoshito-kun

Dragon Soul
(谷本貴義/五條真由美/YOFFY)

Dragon Soul
(Takayoshi Tanimoto / Mayumi Gojō / YOFFY)

ストーリー

Story

門田侑樹

Yūki Kadota

企画・開発

Planning & Development

岩倉史明

Fumiaki Iwakura

福岡麗南

Reina Fukuoka

格和真理

Mari Kakuwa

鈴木禄之

Yoshiyuki Suzuki

宣伝

Publicity

石田忠也

Chūya Ishida

菅原多絵

Tae Sugawara

プロデュサー

Producer

樋口 亘

Wataru Higuchi

企画・制作

Planning & Production

バンダイ

Bandai

アニメーション製作

Animation Production

東映アニメーション

Toei Animation
Ending Credits
声の出演

Voice Performances

~~~~

脚本

Script

冨岡淳広

Atsuhiro Tomioka

キャラクターデザイン・絵コンテ・作画監督

Character Design, Storyboard, & Animation Supervisor

山室直儀

Tadayoshi Yamamuro

演出

Director

小松由依

Yui Komatsu

原画

Key Animation

梨澤孝司

Kōji Nashizawa

北野幸広

Yukihiro Kitano

稲葉 仁

Hitoshi Inaba

板井寛幸

Hiroyuki Itai

石川 修

Osamu Ishikawa

香川 久

Hisashi Kagawa

村 俊太朗

Shuntarō Mura

色彩設計

Color Design

加藤良高

Yoshitaka Kato

デジタル特殊効果

Digital Special Effects

太田 直

Nao Ōta

動画

In-Between Animation

デジタル彩色

Digital Coloring

Toei Phils.

Toei Animation Philippines

 

美術監督

Art Director

徳重 賢

Ken Tokushige

撮影

Photography

AMGA

AMGA

競 昌則

Masanori Kisoi

服部 安

Yasushi Hattori

榎本星夢

Seimu Enomoto

岡田由紀

Yuki Okada

西 重成

Shigenari Nishi

杉浦仙一

Sen'ichi Sugiura

金 正徳

Masanori Kin

編集

Editing

西村英一

Ei'ichi Nishimura

編集助手

Editing Assistance

向井咲子

Sakiko Mukai

録音

Recording

伊東光晴

Mitsuharu Itō

音響効果

Sound Effects

西村睦弘

Mutsuhiro Nishimura

選曲

Music Selection

佐藤恭野

Yasuno Satō

音楽

Music

森 悠也

Yūya Mori

音楽協力

Music In Association With

東映アニメーション音楽出版

Toei Animation Music Publishing

FAIR WIND music

FAIR WIND music

音響製作

Audio Production

タバック

TAVAC

録音スタジオ

Recording Studio

スタジオユモ

Studio Jumo

東映デジタルセンター

Toei Digital Center

記録

Documentation

沢井尚子

Shōko Sawai

美術進行

Art Manager

海野知義

Tomoyoshi Umino

仕上進行

Finishing Manager

河本隆弘

Takahiro Kawamoto

製作担当

Production Manager

小林克規

Katsunori Kobayashi

プロデュサー

Producer

櫻田博之

Hiroyuki Sakurada

製作

Production

東映アニメーション

Toei Animation