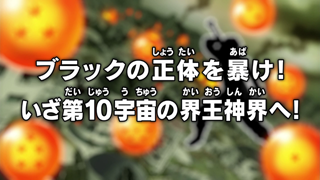 ブラックの正体を暴け!いざ第10宇宙の界王神へ!
Burakku no Shōtai o Abake! Iza Dai-Jū Uchū no Kaiōshin-Kai e!
Reveal Black's True Identity! Now, to the Kaiōshin Realm of Universe 10!
Episode Information
Episode Summary
Whis, Beerus, and Goku are flying through space in order to investigate Zamasu, someone in Universe 10 who Whis and Beerus believe has the same ki as Black. Goku asks who exactly this "Zamasu" guy is, and Whis explains that he used to be a Kaiō in Universe 10, but due to his talent for battle, he is now being groomed as the next Kaiōshin.
Over in the Kaiōshin Realm of Universe 10, Zamasu is serving tea to Gowasu, the senior Kaiōshin. Gowasu compliments him on the delicious tea: only those pure of heart can make such good tea, which proves Zamasu's mind is at peace. He shall humbly continue to train his mind and body in order to silently watch over the doings of mortals.
However Zamasu has something on his mind: are mortals really worth protecting? He has observed them endlessly repeat the same cycle: first flourishing, and then destroying themselves in wars. Should they not interfere to put a stop to these foolish mistakes? Gowasu explains that the role of the Kaiō and Kaiōshin is to create and observe; only the Gods of Destruction are allowed to directly interfere. Zamasu needs to understand his own role, and learn more about mortals.
Beerus and co. arrive and greet Gowasu: It has been a long time! Gowasu introduces Zamasu as his pupil, but Zamasu is shocked to see Goku. A mortal! What's he doing here?! Goku very politely introduces himself: he is a Saiyan living on Planet 4,032-Green-877 in Universe 7… or "Earth". Zamasu is surprised to hear that Goku is a Saiyan, and wonders why he is hanging out with a God of Destruction.
Goku compliments Zamasu as seeming pretty strong for a Kaiō, but Zamasu angrily tells Goku not to touch him. Next Goku requests a match against Zamasu, but Beerus tosses him aside, saying that can wait. He and Whis state their business: on Earth in Universe 7 there is somebody who wears a Time Ring, despite not being a Kaiōshin, and he looks exactly like Goku. Would they happen to know anything about that? Gowasu says he knows nothing about it, but Beerus and Whis request to see their Time Rings, to confirm that they are all present and accounted for.
Zamasu escorts them to the "temple" (while Whis notes to Beerus that Zamasu did not seem to know about the Time Rings). At the temple, Gowasu opens a box which contains four green Time Rings and one silver one, confirming that they are all there. He is curious why Beerus and Whis specifically came to Universe 10 asking about something that occurred in Universe 7, but they claim to be going around to every universe as part of their investigation.
Goku is still pestering Zamasu for a match, until finally Gowasu orders Zamasu to indulge him. This will be a part of Zamasu's training, and help him understand mortals better… plus it is a chance to see how much he can restrain himself against a mortal. He tells Zamasu to hold back, but Beerus interjects, saying Zamasu definitely should not… otherwise, he might die!
Back on Earth, Trunks is wondering to himself why a Universe 10 Kaiō would have the same ki as Black, when Kuririn interrupts him: Gohan's daughter sure is cute, right? Kuririn adds that he has got a kid of his own now too, although she is quite a handful. Trunks did not know Kuririn was married, and asks about his wife. As Kuririn hesitates, No. 18 walks in and greets Trunks: "Long time no see!" Marron also runs out and hugs Kuririn, and No. 18 explains that they came to check on him since he had not come home.
Trunks is shocked to realize No. 18 is Kuririn's wife, while Kuririn says that it is a long story. No. 18 pointedly notes that Trunks killed the version of her that existed in his alternate future, and demands he pay her consolation for damages… thankfully though, she is just joking. Trunks goes off to check on Bulma, who is still repairing the time machine with help from the Pilaf Gang. Things are going well, and they take a break. Outside, Pilaf and Shuu observe Mai's interactions with Trunks, and are determined to help make their love blossom. They try and get Mai to show off her gentle side, but she resents their interference.
In Universe 10, Goku becomes a Super Saiyan as he prepares to fight Zamasu, who notes that this transformation raises Goku's ki up "several dozen fold". Goku notes that Zamasu is the first god he has fought since Beerus, which is an even bigger surprise: if he fought Beerus, how can he still be alive? The match begins, and as Zamasu fights, Goku can sense he does have a ki similar to Black's. At the same time Zamasu cannot believe that a mortal could be so strong.
While it seems to be a good match, in the end Goku is victorious. Goku again notes that Zamasu is really strong for a Kaiō, being even stronger than Universe 7's Kaiōshin! "Let's fight again sometime!" Having seen the Time Rings, Beerus and Whis are content to leave, as they cannot miss eating dessert. Heading home, the trio discuss that what they saw of Zamasu supports their suspicions that he and Black are one and the same. Perhaps they should destroy him now? But Goku says Zamasu did not seem like such a bad guy. Besides, while similar, his ki is not exactly the same as Black's.
Still, the way his hand went numb when he hit Zamasu reminds Goku of when he fought Beerus. Beerus is angry at being lumped in with Zamasu, insisting that he is on a far higher level. However, Goku thinks that Zamasu still has room to improve, and may someday grow to be as scary a god as Beerus.
Back in Universe 10, Zamasu thanks Gowasu for allowing him to fight Goku. Gowasu thinks this helped Zamasu gain a deeper understanding of mortals, and relieved some of the distrust he feels toward them. Zamasu says he is embarrassed to realize how inexperienced he is, which Gowasu says is proof that he has grown. Gowasu asks Zamasu for another cup of tea, which Zamasu obediently pours.
But Zamasu's thoughts tell a different story: "I knew it, mortals are dangerous. Son Goku, I won't forget this!"










Next Time:


"Inheritor of Saiyan Blood — Trunks' Resolve"
Episode Credits
All credits listed below are as originally presented in the episode. The credit structure used in Dragon Ball Super is actually quite simple; the staff involved with the production of the series as a whole are listed in the opening credits and the staff involved with this specific episode are listed in the ending credits. All original credit errors have been corrected to maintain accurate spellings throughout the site. For more information and a complete listing of the series staff, visit the Production Guide.
Cast Credits
孫悟空

Son Goku

野沢雅子

Masako Nozawa

ブルマ

Bulma

鶴 ひろみ

Hiromi Tsuru

クリリン

Kuririn

田中真弓

Mayumi Tanaka

トランクス

Trunks

草尾 毅

Takeshi Kusao

人造人間18号

Artificial Human No. 18

伊藤美紀

Miki Itō

ピラフ

Pilaf

千葉 繁

Shigeru Chiba

マイ

Mai

山田栄子

Eiko Yamada

シュウ

Shuu

玄田哲章

Tesshō Genda

ブリーフ博士

Doctor Brief

田中亮一

Ryōichi Tanaka

マーロン

Marron

牛田裕子

Hiroko Ushida

ビルス

Beerus

山寺宏一

Kōichi Yamadera

ウイス

Whis

森田成一

Masakazu Morita

ザマス

Zamasu

三木眞一郎

Shin'ichirō Miki

ゴワス

Gowasu

後藤哲夫

Tetsuo Gotō

ナレーション

Narration

龍田直樹

Naoki Tatsuta
Opening Credits
原作・ストーリー原案・キャラクター原案

Original Author / Story Draft / Character Drafts

鳥山 明

(集英社「ジャンプコミックス」刊)

Akira Toriyama

(Published in Shueisha's "Jump Comics")

企画

Planning

情野誠人

(フジテレビ)

Masato Seino

(Fuji TV)

渡辺和哉

(読売広告社)

Kazuya Watanabe

(Yomiko Advertising, Inc.)

森下孝三

Kōzō Morishita

プロデューサー

Producer

野﨑 理

(フジテレビ)

Osamu Nozaki

(Fuji TV)

橋爪駿輝

(フジテレビ)

Shunki Hashizume

(Fuji TV)

佐川直子

(読売広告社)

Naoko Sagawa

(Yomiko Advertising, Inc.)

木戸 睦

Atsushi Kido

高見 暁

Satoru Takami

音楽

Music

住友紀人

Norihito Sumitomo

オープニングテーマ

Opening Theme

作詞

Lyrics

作曲

Composition

唄

Vocals

「超絶☆ダイナミック!」

"Chōzetsu ☆ Dynamic!"

森 雪之丞

Yukinojō Mori

吉井和哉

Kazuya Yoshii

吉井和哉

Kazuya Yoshii

(日本コロムビア/トライアド)

(Nippon Columbia / Triad)

製作担当

Production Manager

末竹 憲

Ken Suetake

美術デザイン

Art Design

行 信三

Shinzō Yuki

色彩設計

Color Design

加藤良高

Yoshitaka Katō

キャラクターデザイン・作画監修

Character Design & Supervising
Director of Animation

山室直儀

Tadayoshi Yamamuro


シリーズディレクター

Series Director

畑野森生

Morio Hatano

制作協力

Production Coordination

東映

Toei

制作

Production

フジテレビ

Fuji TV

読売広告社

Yomiko Advertising, Inc.

東映アニメーション

Toei Animation
Ending Credits
脚本

Script

吉高寿男

Toshio Yoshitaka

声の出演

Voice Performances

~~~~

協力

In Cooperation With

青二プロダクション

Aoni Production

原画

Key Animation

東出 太

Futoshi Higashide

永樹龍博

Tatsuhiro Nagaki

石川 修

Osamu Ishikawa

李 周鉉

Joo-hyon Lee

涂 泳策

Yong-ce Tu

大塚将人

Masato Ōtsuka

手塚江美

Emi Tezuka

山田 準

Jun Yamada

Toei Phils.

Toei Animation Philippines

セカンドゲート

Second Gate

大山康彦

Yasuhiko Ōyama

加藤義貴

Yoshitaka Katō

 

小野 歩

Ayumi Ono

別府洋一

Yōichi Beppu

武田 駿

Shun Takeda

菅原リエコ

Rieko Sugawara

畑中太一

Ta'ichi Hatanaka

A-Line

A-Line

神龍

Xenlon

動画

In-Between Animation

Toei Phils.

Toei Animation Philippines

セカンドゲート

Second Gate

A-Line

A-Line

神龍

Xenlon

彩色

Digital Coloring

Toei Phils.

Toei Animation Philippines

セカンドゲート

Second Gate

A-Line

A-Line

神龍

Xenlon

色指定

Color Designation

加藤良高

Yoshitaka Katō

上野夏子

(緋和)

Natsuko Ueno

(Hiyori)

デジタル特殊効果

Digital Special Effects

下川信裕

Nobuhiro Shimokawa

デジタルアーティスト

Digital Artist

川崎健太郎

Kentarō Kawasaki

背景

Backgrounds

ムクオスタジオ

Mukuo Studio

井上慎太郎

Shintarō Inoue

林 鴻生

Hong-Sheng Lin

渡川優介

Yūsuke Togawa

デジタル撮影

Digital Photography

AMGA

AMGA

競 昌則

Masanori Kisoi

服部 安

Yasushi Hattori

平井智朗

Tomoaki Hirai

榎本星夢

Seimu Enomoto

岡田由紀

Yuki Okada

西 重成

Shigenari Nishi

杉浦仙一

Sen'ichi Sugiura

姜 亜偉

Ai Kyō

 

エンディングテーマ

Ending Theme

作詞曲

Lyrical Composition

編曲

Arrangement

唄

Vocals

「よかよかダンス」

"Easy-Going Dance"

小野武正

Takemasa Ono

NARASAKI

NARASAKI

ばってん少女隊

Batten Showjo Tai

(ビクターエンタテインメント)

(Victor Entertainment)

音響監督

Audio Director

本田保則

Yasunori Honda

編集

Editing

西村英一

Ei'ichi Nishimura

編集助手

Editing Assistance

向井咲子

Sakiko Mukai

録音

Recording

伊東光晴

Mitsuharu Itō

録音助手

Recording Assistance

新垣未希

Miki Aragaki

音響効果

Sound Effects

西村睦弘

(JetSoundEngine)

Mutsuhiro Nishimura

(JetSoundEngine)

記録

Documentation

沢井尚子

Shōko Sawai

アシスタントプロデューサー

Assistant Producer

静 美保

(読売広告社)

Miho Shizuka

(Yomiko Advertising, Inc.)

音響製作

Audio Production

タバック

TAVAC

録音スタジオ

Recording Studio

サウンドイン

Sound Inn

東映デジタルセンター

Toei Digital Center

オンライン編集

Online Editing

東映デジタルラボ

Toei Digital Lab

長澤亮祐

Ryōsuke Nagasawa

音楽協力

Music In Association With

東映アニメーション音楽出版

Toei Animation Music Publishing

フジパシフィックミュージック

FUJIPACIFIC MUSIC

企画協力

Planning In Cooperation With

集英社「Vジャンプ」編集部

Shueisha's "V-Jump" Editorial Department

演出助手

Assistant Director

石谷 恵

Megumi Ishitani

製作進行

Assistant Production Manager

福田一夫

Kazuo Fukuda

田中洋平

Yōhei Tanaka

美術進行

Art Manager

西牧正人

Masato Nishimaki

仕上進行

Finishing Manager

河本隆弘

Takahiro Kawamoto

CG進行

CG Manager

渡辺克博

Katsuhiro Watanabe

演技事務

Talent Coordination

角 康昭

Yasuaki Tsuno

協力プロダクション

A Cooperative Production With

セカンドゲート

Second Gate

Creators in Pack OSAKA

広報

Public Relations

清田美智子

(フジテレビ)

Michiko Kiyota

(Fuji TV)

太田真紀子

(フジテレビ)

Makiko Ōta

(Fuji TV)

データ放送

Datacasting

腰塚 悠

(フジテレビ)

Yū Koshitsuka

(Fuji TV)

美術

Art Director

鹿野良行

Yoshiyuki Shikano

総作画監督

Chief Animation Supervisor

井手武生

Takeo Ide

作画監督

Animation Supervisor

石川 修

Osamu Ishikawa

李 周鉉

Joo-hyon Lee

絵コンテ

Storyboard

貝澤幸男

Yukio Kaizawa

演出

Director

広嶋秀樹

Hideki Hiroshima