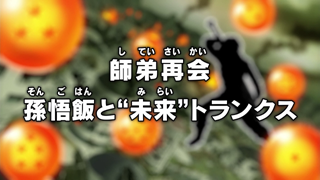 師弟再会 孫悟飯と"未来"トランクス
Shitei Saikai Son Gohan to "Mirai" Torankusu
Master and Pupil Reunion — Son Gohan and "Future" Trunks
Episode Information
Episode Summary
Bulma is working hard on repairing the time machine, with the Pilaf Gang helping to bring her parts. Shuu thinks that they are being worked like slaves, but Mai tells him not to complain: after all, this is all for Trunks' sake! Bulma needs a square wave amplifier out of Laboratory No. 2, so kid Trunks escorts Mai there. Once there, he tries to help her locate the amplifier, but annoys her by constantly finding the wrong thing. Next, kid Trunks tries to look like his future self by posing with a hacksaw, but Mai is not impressed.
Meanwhile, Vegeta trains in the gravity room, motivated by thoughts of what Black did to his family in the future (killing Bulma and hurting Trunks). Outside, Goku hears Vegeta training intensely, and can tell he must be mad. Beside him, Beerus wants to know when it will be dinner time, while Whis is using his staff to re-watch Goku and Black's fight.
Elsewhere in Capsule Corporation, Future Trunks is lying in bed, but his memories of Black attacking Mai prevent him from sleeping. He takes his sword and goes to the laboratory, where he asks Bulma how the repair work is going. Fixing the machine itself will still take some time, but at least she has managed to figure out the machine's energy source… It is the same blue liquid she had developed on her own just a little while ago when Monaka had stopped by!
Bulma says it will take a full day to get the tank filled up. Trunks is amazed, since in his future it took a year to collect enough energy for a one-way trip, but Bulma says they must have lacked equipment there; her future self certainly must have had it rough! Trunks offers to help, but Bulma says she already has plenty (indicating Mai). She tells Trunks to change out of his beat-up clothes though; she already left a new outfit by his bed.
Outside, Piccolo and Kuririn are filling in the big holes left around Capsule Corporation from the battle. Trunks (still in his beat-up clothes) greats them, and asks how Gohan is doing. Piccolo warns Trunks that if he is planning on taking Gohan to the future, he had better forget about it. Gohan is not the same as Trunks remembers; he has become a scholar and his warrior days are long gone. Trunks is happy to hear that Gohan is now a scholar: his dream has come true!
Trunks explains that in his future, Gohan was his martial arts master, who died fighting the artificial humans. He never got a chance to properly thank Gohan, so Kuririn suggests Trunks go do so now. Piccolo says Gohan is currently at an academic conference, so Trunks flies off (map in hand) and soon spots the university… which he recalls seeing in his own future, destroyed.
Trunks waits outside the university entrance, and when Gohan walks out, he does a double take when he spots Trunks. For his part, Trunks has trouble recognizing Gohan; he cannot sense the same intense power from him as before. They sit together at a park bench and Gohan buys them both ice cream cones. Gohan raves about this local ice cream stand; he always stops there when he is nearby! Trunks still has trouble believing this is the same Gohan who fought Cell. Gohan invites Trunks back to his house, since he would love to introduce him to his family.
At Gohan's house, everyone is suitably amazed to hear that this is Trunks, but from the future. Gohan introduces Trunks to Videl, then Mister Satan… but Trunks says he already knows Satan (from the Cell Games). However, before Trunks can explain in full, Satan cuts him off, assuming he is a famous hero in Trunks' future as well. But when Gohan introduces Pan, she squirts Trunks in the face with her milk bottle.
Next Pan starts flying and will not come back down, so Gohan transforms into Great Saiyaman and chases after her. Trunks is dumbfounded, but Videl explains that they always play like this. Having caught Pan, Gohan asks Trunks to stay for dinner. While Videl cooks and Gohan works on academic stuff, Trunks sits with Satan, who shows him a video of when he "fought off" alien invaders. Satan goes to help Videl, leaving Trunks to take care of Pan. When Gohan finishes his work and walks in, he finds Trunks struggling with Pan, and the room is a complete mess.
Outside on the swings, Gohan explains that he tries to be stricter with Pan, but just cannot bring himself to do it. She is too cute! Seeing Gohan play with Pan, Trunks realizes he has never seen an expression of happiness like that on Gohan's face before. Videl announces that dinner is ready, and while Gohan takes Pan inside, Trunks reflects about how his future could be peaceful like this too if it were not for Black. He could be happily eating dinner with Bulma and Mai right now!
After dinner, Trunks bids farewell to Gohan's family, telling Gohan to work hard at his studies, while Satan offers to train Trunks next time. Trunks flies back to Capsule Corporation, thinking to himself that Gohan has clearly shown him just what he is fighting for and vows to defeat Black and create a peaceful future where people can smile once more. Meanwhile, Videl wonders why Trunks came from the future in the first place. Gohan forgot to ask…
Back at Capsule Corporation, Bulma and co. are finishing their meal out on the veranda, with kid Trunks still trying to impress Mai. Future Trunks walks out, now changed into the outfit Bulma left for him. He notices Goku is gone, and Kuririn explains that Goku went with Beerus and Whis to Universe 10, where supposedly there is a guy with the same ki as Black. Out in space, Goku is excited to meet this guy, but starts to get on Beerus' nerves. This is why Beerus did not want to bring him along!
Meanwhile, somewhere far away, a green Kaiōshin pushes a tea tray…










Next Time:


"Reveal Black's True Identity! Now, to the Kaiōshin Realm of Universe 10!"
Episode Credits
All credits listed below are as originally presented in the episode. The credit structure used in Dragon Ball Super is actually quite simple; the staff involved with the production of the series as a whole are listed in the opening credits and the staff involved with this specific episode are listed in the ending credits. All original credit errors have been corrected to maintain accurate spellings throughout the site. For more information and a complete listing of the series staff, visit the Production Guide.
Cast Credits
孫悟空

Son Goku

孫悟飯

Son Gohan

野沢雅子

Masako Nozawa

 

ブルマ

Bulma

鶴 ひろみ

Hiromi Tsuru

ベジータ

Vegeta

堀川りょう

Ryō Horikawa

クリリン

Kuririn

田中真弓

Mayumi Tanaka

ピッコロ

Piccolo

古川登志夫

Toshio Furukawa

トランクス

Trunks

草尾 毅

Takeshi Kusao

ミスターサタン

Mister Satan

石塚運昇

Unshō Ishizuka

ビーデル

Videl

皆口裕子

Yūko Minaguchi

ブリーフ博士

Doctor Brief

田中亮一

Ryōichi Tanaka

ピラフ

Pilaf

千葉 繁

Shigeru Chiba

マイ

Mai

山田栄子

Eiko Yamada

シュウ

Shuu

玄田哲章

Tesshō Genda

ビルス

Beerus

山寺宏一

Kōichi Yamadera

ウイス

Whis

森田成一

Masakazu Morita

ナレーション

Narration

龍田直樹

Naoki Tatsuta
Opening Credits
原作・ストーリー原案・キャラクター原案

Original Author / Story Draft / Character Drafts

鳥山 明

(集英社「ジャンプコミックス」刊)

Akira Toriyama

(Published in Shueisha's "Jump Comics")

企画

Planning

情野誠人

(フジテレビ)

Masato Seino

(Fuji TV)

渡辺和哉

(読売広告社)

Kazuya Watanabe

(Yomiko Advertising, Inc.)

森下孝三

Kōzō Morishita

プロデューサー

Producer

野﨑 理

(フジテレビ)

Osamu Nozaki

(Fuji TV)

橋爪駿輝

(フジテレビ)

Shunki Hashizume

(Fuji TV)

佐川直子

(読売広告社)

Naoko Sagawa

(Yomiko Advertising, Inc.)

木戸 睦

Atsushi Kido

高見 暁

Satoru Takami

音楽

Music

住友紀人

Norihito Sumitomo

オープニングテーマ

Opening Theme

作詞

Lyrics

作曲

Composition

唄

Vocals

「超絶☆ダイナミック!」

"Chōzetsu ☆ Dynamic!"

森 雪之丞

Yukinojō Mori

吉井和哉

Kazuya Yoshii

吉井和哉

Kazuya Yoshii

(日本コロムビア/トライアド)

(Nippon Columbia / Triad)

製作担当

Production Manager

末竹 憲

Ken Suetake

美術デザイン

Art Design

行 信三

Shinzō Yuki

色彩設計

Color Design

加藤良高

Yoshitaka Katō

キャラクターデザイン・作画監修

Character Design & Supervising
Director of Animation

山室直儀

Tadayoshi Yamamuro


シリーズディレクター

Series Director

畑野森生

Morio Hatano

制作協力

Production Coordination

東映

Toei

制作

Production

フジテレビ

Fuji TV

読売広告社

Yomiko Advertising, Inc.

東映アニメーション

Toei Animation
Ending Credits
脚本

Script

福嶋幸典

Yoshifumi Fukushima

声の出演

Voice Performances

~~~~

協力

In Cooperation With

青二プロダクション

Aoni Production

原画

Key Animation

八島善孝

Yoshitaka Yashima

涂 泳策

Yong-ce Tu

辻 美也子

Miyako Tsuji

東出 太

Futoshi Higashide

横山美雪

Miyuki Yokoyama

 

動画

In-Between Animation

Toei Phils.

Toei Animation Philippines

武遊

Buyū

ミュウ

Myū

彩色

Digital Coloring

Toei Phils.

Toei Animation Philippines

武遊

Buyū

ミュウ

Myū

色指定

Color Designation

加藤良高

Yoshitaka Katō

デジタル特殊効果

Digital Special Effects

下川信裕

Nobuhiro Shimokawa

デジタルアーティスト

Digital Artist

川崎健太郎

Kentarō Kawasaki

背景

Backgrounds

アテネアートスタジオ

Athens Art Studio

斉藤信二

Shinji Saito

木下千春

Chiharu Kinoshita

山本真生

Mao Yamamoto

大谷正信

Masanobu Ōtani

赤保谷則子

Noriko Akahoya

勝又アイ子

Aiko Katsumata

デジタル撮影

Digital Photography

AMGA

AMGA

競 昌則

Masanori Kisoi

服部 安

Yasushi Hattori

平井智朗

Tomoaki Hirai

榎本星夢

Seimu Enomoto

岡田由紀

Yuki Okada

西 重成

Shigenari Nishi

杉浦仙一

Sen'ichi Sugiura

姜 亜偉

Ai Kyō

 

エンディングテーマ

Ending Theme

作詞曲

Lyrical Composition

編曲

Arrangement

唄

Vocals

「よかよかダンス」

"Easy-Going Dance"

小野武正

Takemasa Ono

NARASAKI

NARASAKI

ばってん少女隊

Batten Showjo Tai

(ビクターエンタテインメント)

(Victor Entertainment)

音響監督

Audio Director

本田保則

Yasunori Honda

編集

Editing

西村英一

Ei'ichi Nishimura

録音

Recording

伊東光晴

Mitsuharu Itō

録音助手

Recording Assistance

新垣未希

Miki Aragaki

音響効果

Sound Effects

西村睦弘

(JetSoundEngine)

Mutsuhiro Nishimura

(JetSoundEngine)

記録

Documentation

沢井尚子

Shōko Sawai

アシスタントプロデューサー

Assistant Producer

静 美保

(読売広告社)

Miho Shizuka

(Yomiko Advertising, Inc.)

音響製作

Audio Production

タバック

TAVAC

録音スタジオ

Recording Studio

サウンドイン

Sound Inn

東映デジタルセンター

Toei Digital Center

オンライン編集

Online Editing

東映デジタルラボ

Toei Digital Lab

長澤亮祐

Ryōsuke Nagasawa

音楽協力

Music In Association With

東映アニメーション音楽出版

Toei Animation Music Publishing

フジパシフィックミュージック

FUJIPACIFIC MUSIC

企画協力

Planning In Cooperation With

集英社「Vジャンプ」編集部

Shueisha's "V-Jump" Editorial Department

演出助手

Assistant Director

唐澤和也

Kazuya Karasawa

製作進行

Assistant Production Manager

難波 涼

Ryō Nanba

美術進行

Art Manager

西牧正人

Masato Nishimaki

仕上進行

Finishing Manager

河本隆弘

Takahiro Kawamoto

CG進行

CG Manager

渡辺克博

Katsuhiro Watanabe

演技事務

Talent Coordination

角 康昭

Yasuaki Tsuno

広報

Public Relations

清田美智子

(フジテレビ)

Michiko Kiyota

(Fuji TV)

太田真紀子

(フジテレビ)

Makiko Ōta

(Fuji TV)

データ放送

Datacasting

腰塚 悠

(フジテレビ)

Yū Koshitsuka

(Fuji TV)

美術

Art Director

杦浦正一郎

Sei'ichiro Sugiura

斉藤信二

Shinji Saito

総作画監督

Chief Animation Supervisor

辻 美也子

Miyako Tsuji

作画監督

Animation Supervisor

八島善孝

Yoshitaka Yashima

演出

Director

唐澤和也

Kazuya Karasawa